Call on Government to Increase UK Hedgerow Network by 40% by 2050
Who even cares about hedgerows? This would have certainly been my view as a young boy, cycling many unnecessary extra miles to see friends on roads that snaked in circles around hedge-lined fields, up and down the rudely steep hills of Mid-Devon. Hedgerows are not often at the forefront of discussions on transforming our agricultural system to one that is more sustainable. Instead, headline issues tend to present the negatives such as our polluted waterways, soil degradation, depleted crop yields or the disappearance of natural habitats and endangered species.
There is a reason groups like Hedgelink and charities like the Countryside Charity have such a long history of campaigning for the protection of UK hedgerows. Hedgerows provide an invaluable regulating role in the management of the UK's countryside. Both organisations have worked hard over the years to consolidate the evidence that hedgerows offer a significant on-farm carbon sink, filter pollutants in runoff water, improve soil water content, increase soil carbon stocks, provide shelter for crops and livestock, reduce regional flood risk, provide habitats and wildlife corridors for many endangered species, and significantly reduce soil loss. ORC joins the Countryside Charity in seizing the initiative and campaigning for the government to increase UK hedgerows by 40% in line with recent recommendations made by the Climate Change Committee (CCC) 2018 report – 'Land Use: reducing emissions and preparing for climate change.'
If the predictions made in the CCC's highly regarded report are correct, then this will prove to be an incredibly important effort by both ORC and the Countryside Charity. The margins for the agricultural sectors' climate change mitigation efforts outlined in the report are remarkably slim. For the UK to meet its emission reduction targets by 2050, the scenario of a 40% increase to our hedgerow network is not delusional or overly ambitious, it is simply what must happen.
The Countryside Charity were wise to identify that the case for hedgerows can be made on many fronts, not just in terms of carbon sequestration alone. Consequently, over the summer a small team of two ORC ecologists and two ORC economists (myself included) were commissioned by the Countryside Charity to investigate what the implications of a 40% increase in hedgerows would be across different ecosystem services. Our work consisted of in-depth evidence reviews and original environmental and economic modelling to understand the potential costs and benefits of a hedgerow network extension between 2022 and 2050. Although dependent on a number of recommendations that we make concerning best practice when planting and managing the new network, we were pleased to support the Countryside Charity's campaign with an overwhelming amount of evidence in favour of more hedges.
The report really highlights the hedgerow cause as a place for collaboration between different groups in the agricultural and environment sector. Conservationists would take great pleasure in reading how a 40% increase in hedgerows would see a 17% increase in the local abundance of species like earthworms and pipistrelle bats. Politicians and climate change NGOs would be relieved to learn that a targeted investment in nearly 260,000km of new hedgerows could sequester as much as 18.5Mt of CO2. Those concerned with the increasing economic challenges facing the food and farming industry can examine evidence of net economic gains from pollination and pest control when hedgerows are planted next to select crops, or of the potential for new income streams when hedges are managed for woodchip biofuel. And finally, the benefits are not exclusive to rural areas – urban areas could see benefits to mental health, enjoyment of the outdoors and reduced air pollution were the campaign to also include towns and cities. The full findings of the report can be accessed here.
To return to my opening question of who cares about hedgerows? The answer is that an inspiring amount of people do, including many forward-thinking farmers who recognise the multiple benefits they can bring to crops, livestock, farm ecosystems, and farm businesses. I myself, ORC's head of research Will Simonson, and ORC's senior agroforestry researcher Colin Tosh, recently travelled to Westminster to support the launch of the campaign (see photos below).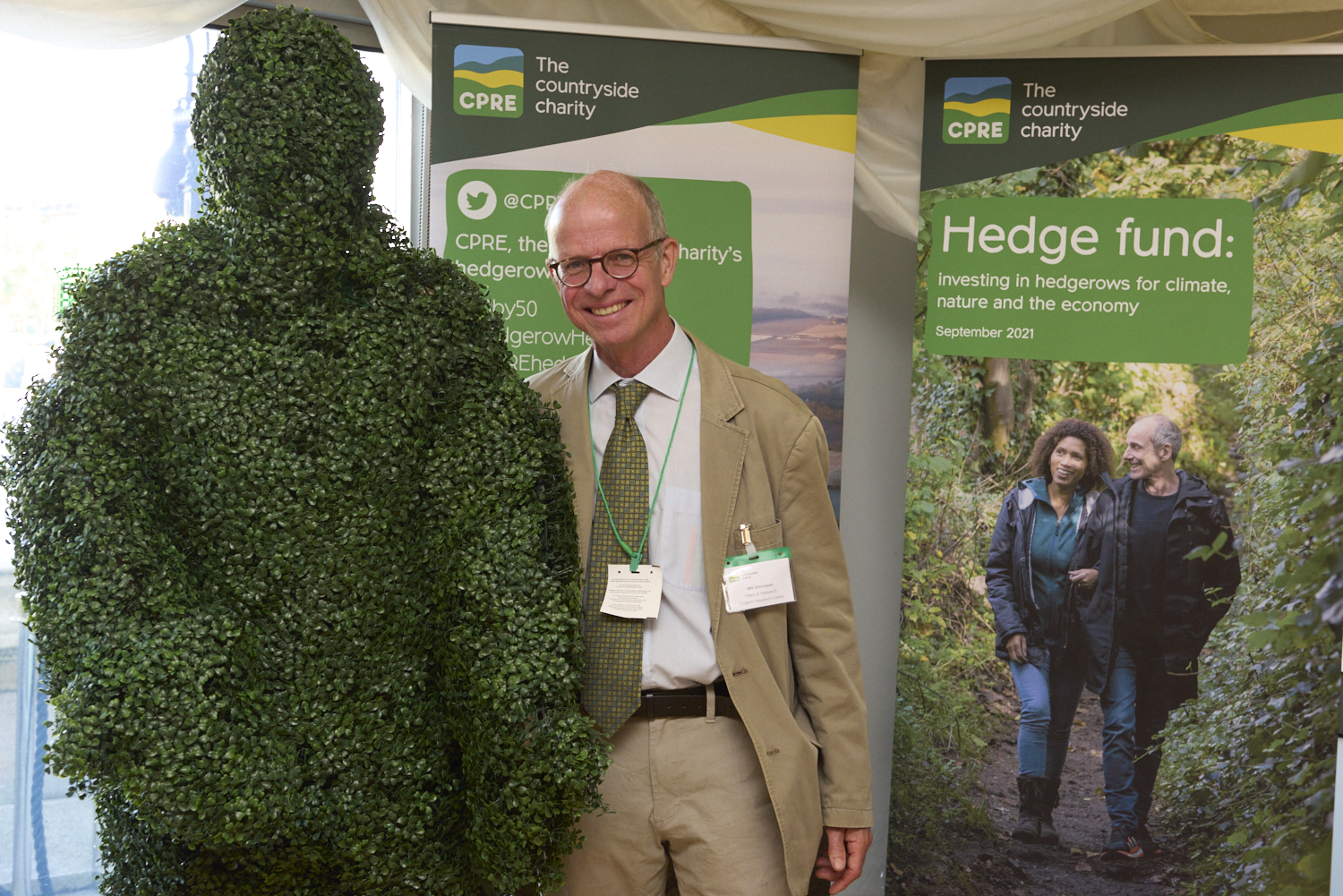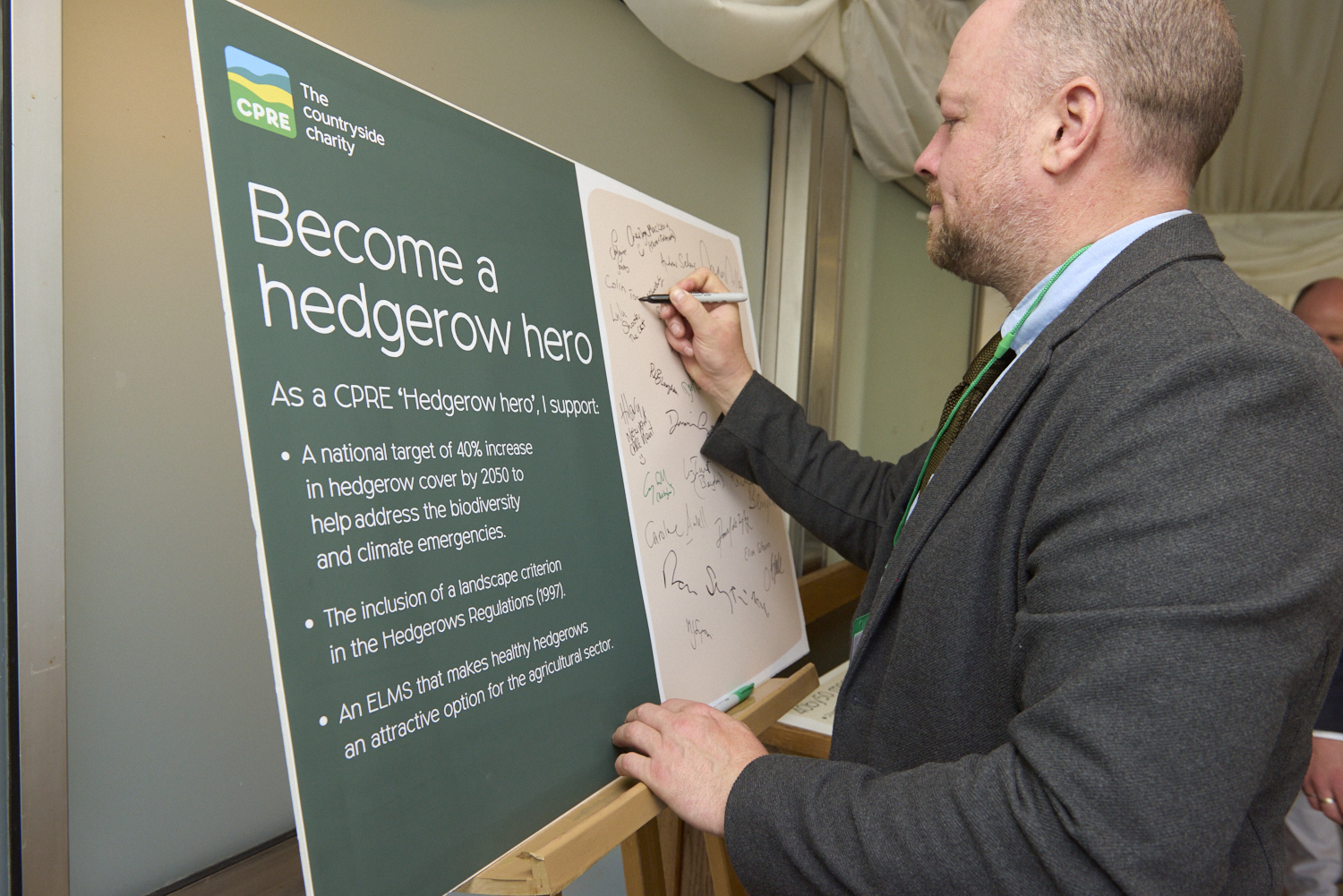 We were delighted to find the event attended by representatives from around 70 different agricultural and environmental organisations, as well as national press and MPs for Labour and the Conservatives. If it was not already before, this event has cemented hedgerows as a key component of this country's effort to mitigate the climate crisis.
But for us the job is not done. It is one thing to say we will increase hedgerows by 40% and another to do it. Detailed spatial analysis is required to understand how to best maximise the key ecosystem benefits outlined in the report. Furthermore, we must examine the question of whether or not the industry is ready. Could our tree-nursery industry support such a venture? Is there the infrastructure in place for a rapid growth in woodchip biofuel production? Is the skill base there to manage and plant the new network? It is essential for farmers and farm businesses to have answers to questions like these before being asked to give up their land for such a cause. We look forward to a long involvement with the campaign and to tackling some of these issues as it progresses.
Rowan Dumper-Pollard writes of himself "I grew up on a small goat farm in Mid-Devon, so farming has always been a part of my life. We have always farmed the land according to organic principles and we used to make goats cheese which was sold at local shops, markets and on our website. I was very fortunate after completing my Masters to get a position as a Business and Markets Researcher at the Organic Research Centre. In this role I am able to combine my love of agriculture with my academic training and interests. Having grown up in the countryside, working on farms and watching many small businesses disappear, I am well aware of the many issues facing our sector. For me, the transition towards a sustainable and localised agricultural system provides a solution to many of these challenges as well as ensuring agriculture does its bit to combat climate change. By providing skilled jobs, local infrastructure, high value and high-quality food and food security, alongside climate change mitigation, I find sustainable agriculture a very interesting and rewarding area to research."
Header image shows Rowan on his family farm. Courtesy of Rowan Dumper-Pollard. All other photos courtesy of the Countryside Charity