So mulch lovin'! How mulches help get trees off to the best start
Planting trees is great isn't it? Good for the farm, good for the planet, good for our livestock for our crops for our soil. It's very satisfying putting a tree in the ground and imagining what it will look like in a hundred years' time. But how do we ensure that it actually survives not just for a hundred years but even until next season?
Mulching trees is one great way to give them a good start and ensure they remain alive. Traditionally mulches have been seen to provide two main benefits; weed control, moisture retention. My belief is that in the medium term improving the soil health around a tree is also a crucial component.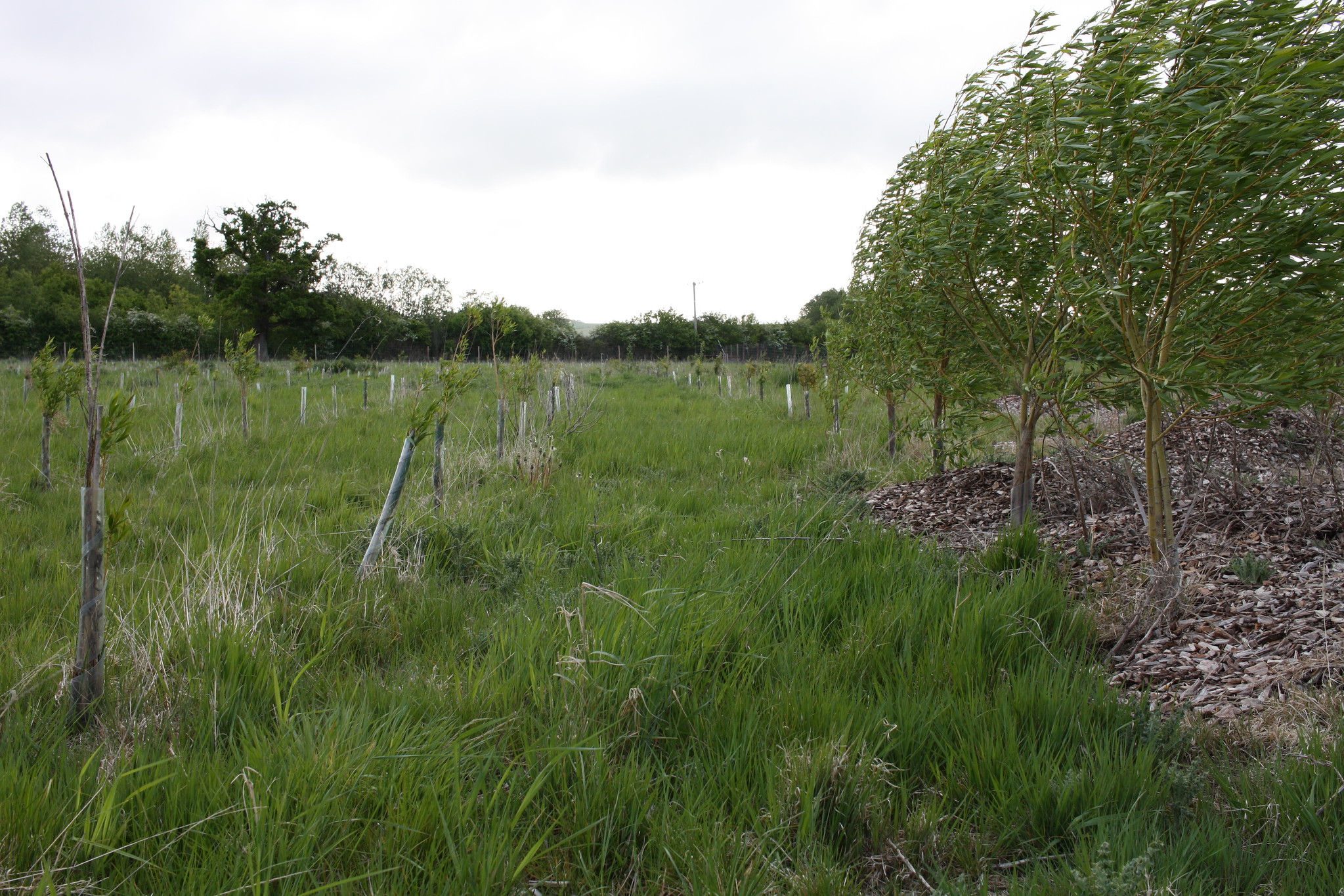 The standard method for weed control in most forestry situations is glyphosate. It is cheap and very effective at weed control. There are some environmental concerns about the effect on the soil, but probably over the lifetime of a tree they will negligible. However, herbicide control gives no moisture retention and no organic matter, and for organic farmers it is not an option within their certification.
As tree planting is becoming more fashionable again with farmers it's crucial that we share the best and most cost-effective ways of establishing trees. Here's a few options from my experience over the years, and especially recently at Eastbrook Farm where we are putting in 200 acres of agroforestry in a range of systems. I've tried to outline what I see as some of the pros and cons…
Mulch mats
I have tried a range of mulch mats and have to say that my experience is not positive. They are quite expensive and fiddly to put down. You need at least 4 pegs per mat to properly ensure they don't blow away, though you can add a compost or woodchip mulch on top of them to secure them instead of the pegs. They provide a delightful dry home for voles and the woodchip on top seems to make the problem even worse.
Wool
We are experimenting with this so don't take it as gospel but so far it is quick to put down – definitely as quick, if not quicker, than mats. We are using the sheered dag ends in our experiment so it was free, though with the price of wool at the moment I would look at paying for fleeces too. It's potentially a great use of a plentiful material that currently doesn't have much of a market elsewhere. It seems to be working well so far, we are hoping to extend trials next year. I'm not sure if it will encourage voles, and the birds have been spreading it around a little bit, probably for nesting, but I am not too worried about that.
Woodchip
Potentially free, we get ours both from our own trees on the farm and delivered free of charge by a local tree surgeon. However, it is expensive to put down. We have tried a range of methods of applying. There are proprietary spreaders if you have the budget, we have also adapted a silage mixer wagon for our alley rows.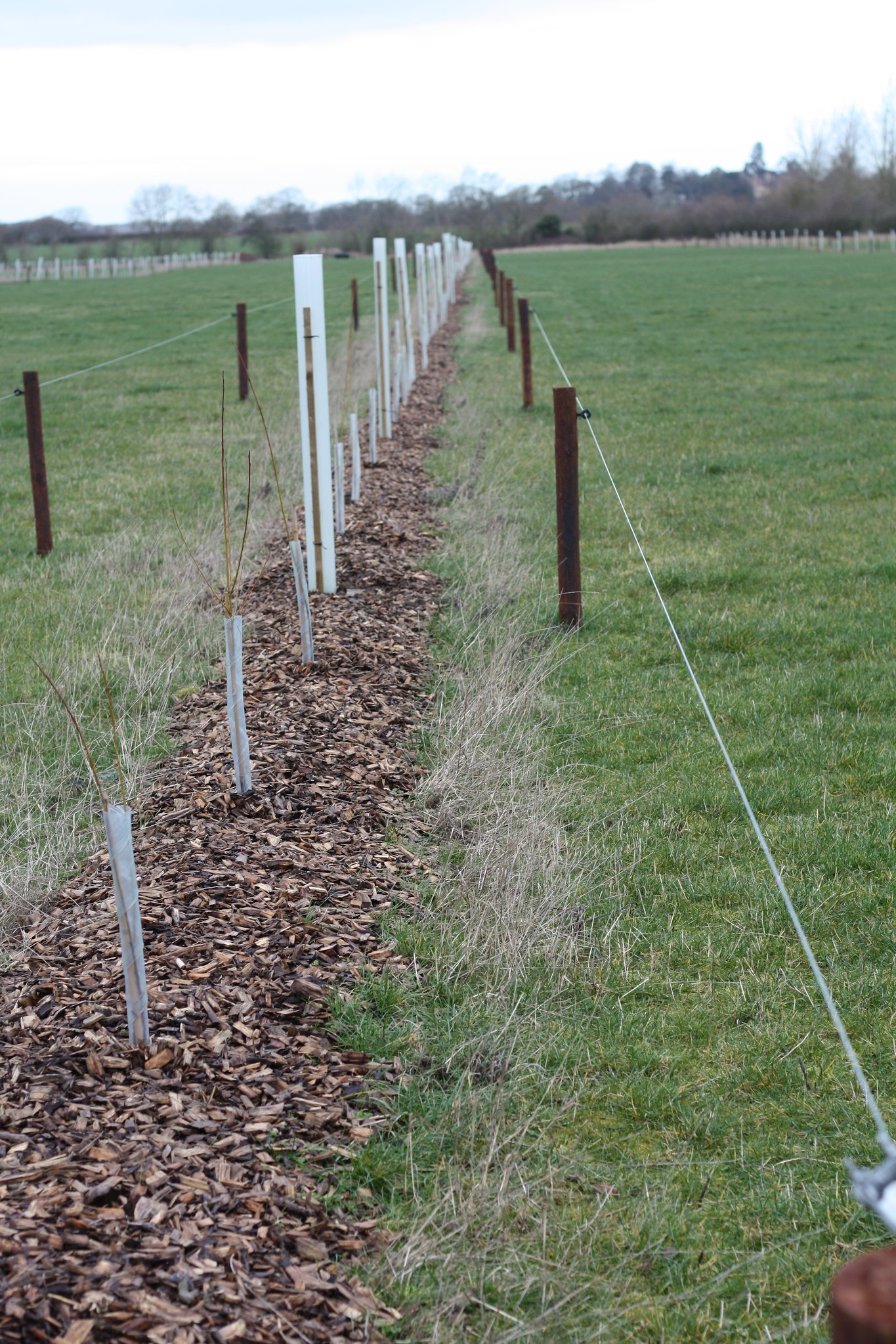 We've also hired a side tipping dumper which worked well in shifting large quantities of chip but was somewhat arbitrary in how much each tree got ("a bit more, a bit more….oh dear that tree is now entirely covered in woodchip"). We also do a lot of shovelling by hand from trailers or piles tipped in field. While this is more time consuming it works well as a job for some of the volunteers we have.
The woodchip we get from the local tree surgeon is mixed species. Ideally, we let it compost for a few months (turning a couple of times if possible). Voles don't seem to like it as long as it is not on top of a mat, maybe because the bits fall into their runs.
From our experience tree establishment and growth are definitely improved when a woodchip mulch is applied. WHY? In my opinion because as well as controlling weeds and holding in moisture it also boosts soil health and increases fungal life. Nothing is perfect of course and the downside of woodchip mulches is that perennial weeds come through, particularly thistle and docks.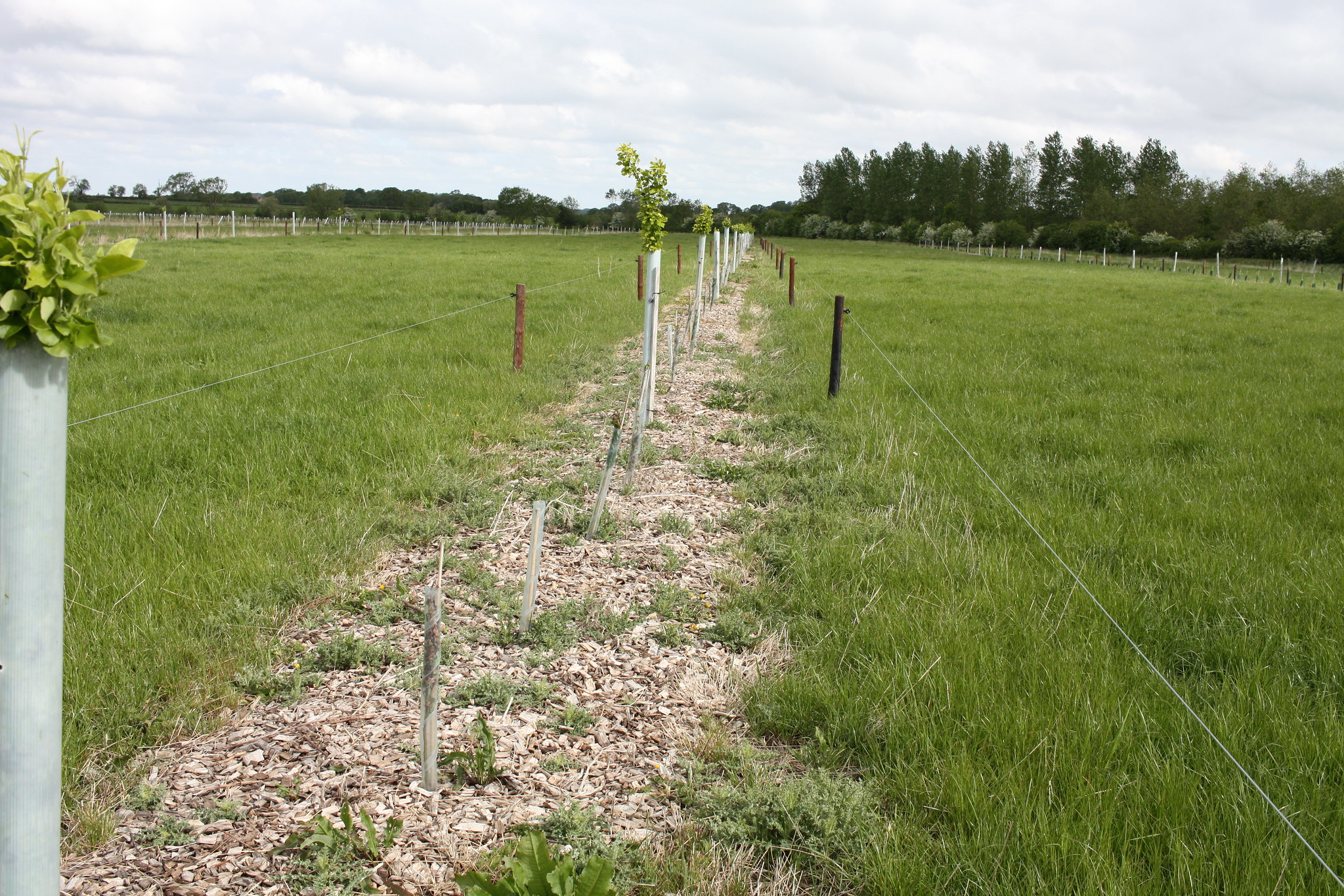 For more information check out:
Ben Raskin writes of himself:
"I discovered growing on a vineyard in Italy in my late twenties and have now worked in horticulture for 25 years. For 12 years I grew vegetables, including running a walled garden at Gravetye Manor in Sussex and setting up the market garden at Daylesford. I now combine a range of work, predominantly as Head of Horticulture and Agroforestry for the Soil Association, but also implementing a 200-acre agroforestry planting at Helen Browning's Eastbrook Farm in Wiltshire. I write gardening books for children and grownups, and if I can fit it in do a little private consultancy. For the last couple of years, I have co-chaired the Defra Edibles Horticulture Roundtable and I'm on the boards / committees of three great grass roots organisations; the Organic Growers Alliance, the Farm Woodland Forum and the Community Supported Agriculture Network UK. Hobbies include singing in a folk band, walking the kids (and dog), knitting. Lock down has justified investing in a table tennis table, enabling me to relive my childhood glory of winning a school competition age 10 – my first and last sporting achievement."
All photos courtesy of Ben Raskin CC BY-NC-SA