Event
Scottish Organic Cereal Growers Group – Scotston Farm Walk
NOTE – PLEASE FILL OUT ONE FORM PER ATTENDEE
OPEN TO ALL ORGANIC FARMERS
FARM INTRODUCTION: Scotston Farm is 480ha (180ha moorland) farmed by three Baird brothers Diarmid, Dougal and Ewan, and has been organic since 1988. 2023 crops include spring oats, winter wheat, winter rye, triticale, oil seed rape and grass for suckler cows, with sheep and laying hens also on the farm. Novel crops being grown in 2023: rye, triticale, lupins, plus a four-way multispecies crop on trial in conjunction with Hutton Institute. Pete Ianetta Head of Ecological Food Systems at The Hutton Institute is leading the research on the four-crop trial and will join us for the farm walk to explain what the trial is looking to achieve and why it is important for agriculture. The four crops are lupins, wheat, peas and beans, so imagine the challenge of working out seed rate, co-ordinating harvest time and crop separation. Special emphasis is given to grow crops to develop a home-grown high protein hen feed to reduce the reliance on imported feeds and avoid imported soya in the layers ration.
The farm is heated and powered by a wood chip gasifier that runs the grain drier and pullet rearing sheds.
On display will be the shallow plough and demonstrations of the camera-guided weeder and compost windrowing (weather dependent). Strict biosecurity will be observed with regard to livestock and laying hens in particular.
Toilets are available.
We will be driving out to view crops and demonstrations so car sharing is advised, and appropriate footwear (sturdy) and weatherproof clothing or (hopefully) suncream.
Next Event
VIEW

ALL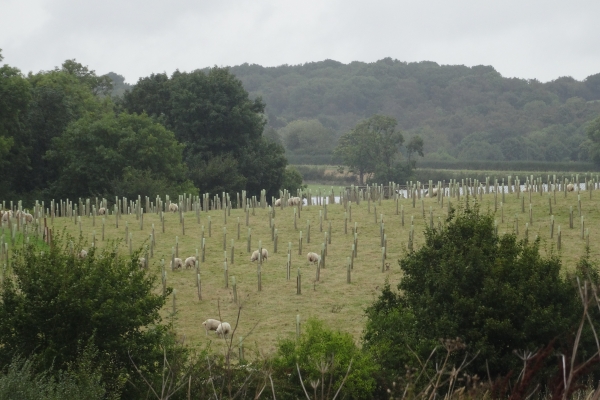 4th December 2023 – 5th December 2023
Looking to integrate trees into your arable farming business but don't know which trees to plant, how many, or where? Two-day workshop at FarmED