The RBOrganic Ltd team grow carrots, onions, leeks, potatoes, parsnips, beetroots and courgettes. We are a LEAF Marque certified business.
We work as an integrated part of Houghton Estate, which also has chickens, pigs, English Longhorn beef, and sheep in rotation as well as a large area of permanent parkland with a deer herd. In addition to growing vegetables within the rotation of the estate, we are the contractor on the arable crops and rotational leys.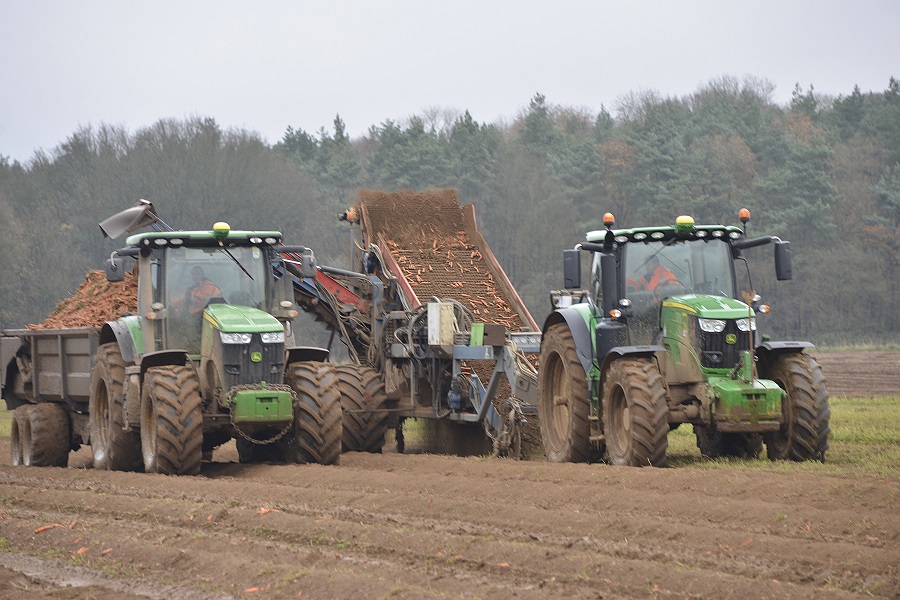 (Carrot harvesting on the estate)
All vegetable crops are marketed through Produce World (the RBOrganic Ltd parent company) to various large retailers.
Sustainability in practice
Using field margins to increase the immediacy of predatory insects and help control aphids.
Whilst in Kenya a couple of years ago, I visited a company called 'Real IPM.' They have developed a whole range of biological controls such as a mite that eats red spider mite and natural target-specific fungi. When I came back to the UK, I, along with Anthony Pearce, started to think about how we could apply some of this in the UK and make it work on a field scale. We set up Real IPM UK and are working on the registration of various things. I have been looking at what is already 'out there' in terms of biological control and how we could bolster the populations of beneficial insects already on the farm. We also needed to create a habitat for them.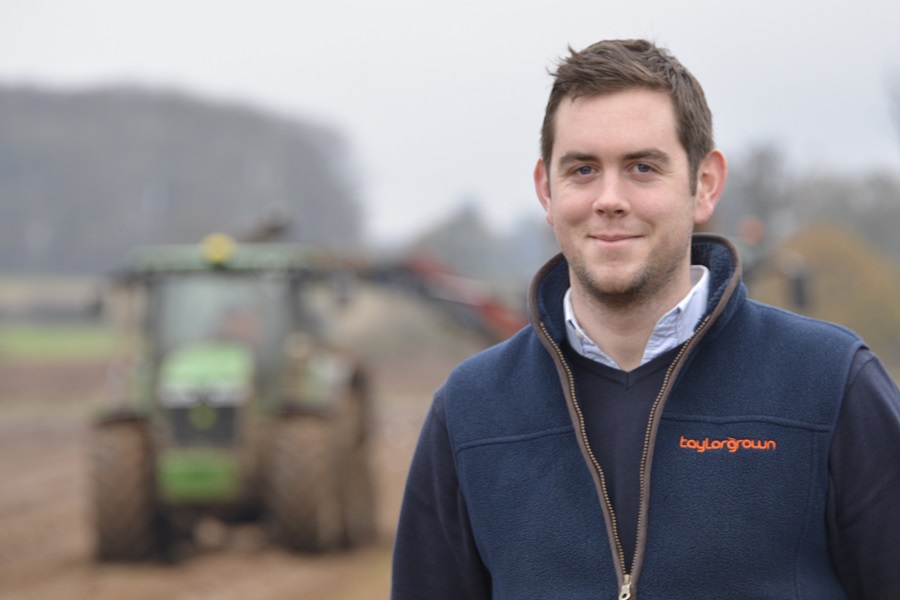 This year, led by RBOrganic Ltd Farm Manager Joe Rolfe (pictured right), we have established wildflower strips in fields at Houghton (which were also established as part of the Environmental Stewardship Scheme). We have been using a 'Houghton wildflower mix' which is a mixture of different species that have long flowering periods and will provide a winter food source for insects.
We have been introducing ladybirds, lacewing and parasitic wasps into the strips on a weekly basis. The insects are released into the field margins and up the strips within the fields. It is early days but on the whole we feel this is working. We have already identified some improvements for next season however. For example, the strips going in to the fields were not flowering in time to release the insects. We have now re-planted some of them so that they become established in the autumn (rather than the spring). In this way, they will flower in early May when we need them.
We have worked with Stockbridge Technology Centre on various pest control methods and included trials using crop covers to trap predators within the crop and exclude pests. This has led to further work looking at how we can close the gap between aphid population growth and predator population growth.
We are currently looking at using natural nematodes to control pests such as cabbage root fly. For me, this is the new frontier.
Motivations
"Sometimes we must forget the emotive labels and take the best sustainable farming practices, regardless of where they came from."
I grew up on our family farm (I am the fourth generation of farmers) and took an interest in vegetable growing from a young age. Back then in the 1970's and 80's, it was very intensive; I grew up doing alot of spraying according to a blueprint which was acceptable at that time. I left college in 1986, farmed my way around Australia and came home via veg growers in California. After having done a bit of travelling and gone to college, I felt uncomfortable about the intensive way of farming. There were a couple of catalysts; the 1995 organophosphate insecticide food scare regarding carrots (where high level residue levels were detected) was the first. After speaking with Alan Wilson from Waitrose (who I was working with at the time and still do to this day), we decided not to use the chemicals and led the way with never using organophosphates again. We also led the way with removing nematicides from production.
Agreeing that there were better ways to the intensive route, my brother Jason and I joined a fledgling LEAF organisation and we became one of the early LEAF demonstration farms in the mid 90's. In 1997, Alan Wilson said I need you to do some organic farming for me. It terrified me! We put some land into conversion, grew organic roots and other vegetable crops and were really amazed at the recovery of the soil and the quality of the crops grown without all the inputs we had been bought up to believe were essential… It requires a very different mind-set – you have to think about what the problems might be and design systems to reduce risk. It is very interesting and exciting and I like to think we are getting better and better at it.
We believe in combining natural methods with modern techniques. We have learnt many things from our organic growing and have transferred those things to our LEAF growing – such as camera-steered hoeing, the importance of beneficial insects, and the value of soil health. It is highly satisfying to see soil health and biology turned round in terms of vigour and disease resistance.
I believe in combining my organic learnings with some of the more conventional practices and taking the best from both worlds to create a sustainable farming system. Farming organically does require an acceptance of reality – that the organic market is small and we can't go all organic until the marketplace is ready. We believe we have brought a professional approach to the organic vegetable market and have made our products affordable for ordinary people to buy into sustainable farming. For me, LEAF Marque provides an assurance to the consumer that we care about the environment and the products they are buying have been sustainably farmed.
RBOrganic Ltd (led by Joe Rolfe) is also taking part in the AHDB funded GREATsoils project.
Find out more about Andrew Burgess and RBOrganic Ltd by following on social media.