The main output from Homeacres is salad bags, which contain washed and mixed leaves of many flavours, which vary with the seasons. I sell over a tonne every year to local restaurants and shops, and I also sell 5 boxes weekly from June to December.
The polytunnel and greenhouse are used for protected crops, while most salad is grown outside from April until November. Salad is the only crop that is regularly profitable, kale and spinach is almost!
Courses at Homeacres are popular and bring in as much income as the growing. Garden visits (which I charge for) are also popular. People are very interested in the no dig approach and in how to create a beautiful growing space.
Sustainability in practice
"When soil is looked after, by leaving it undisturbed as much as possible, we reap the rewards of healthier crops, less weeds, better carbon conservation and good drainage."
No dig/no till is the method I have used since 1983. In the 1980s it was not fashionable and nobody noticed. When BBC Gardeners' World devoted a programme to my garden in 1988, the whole focus was on organic, which was still a new and revolutionary approach.
Now, with there being a strong interest in soil health and biology, I feel I am well placed to share my long experience of improving soil structure and fertility with mulching on the surface. In Somerset's damp climate, the most practical mulch is compost because it does not harbour slugs. I apply 1-2 inches every year and that is soil food, for all beds. I use no other fertilisers but apply some rockdust, and the biodynamic horn manure preparation in spring and autumn.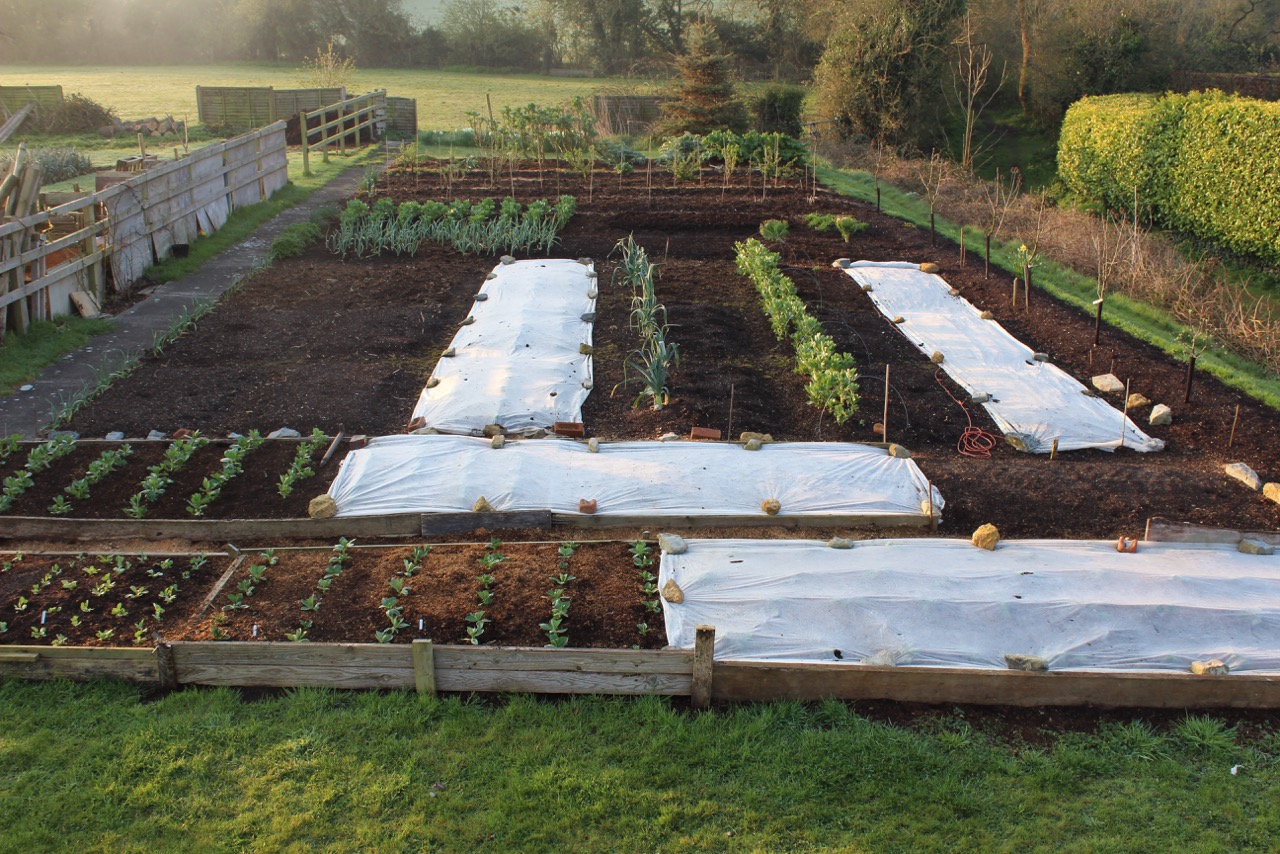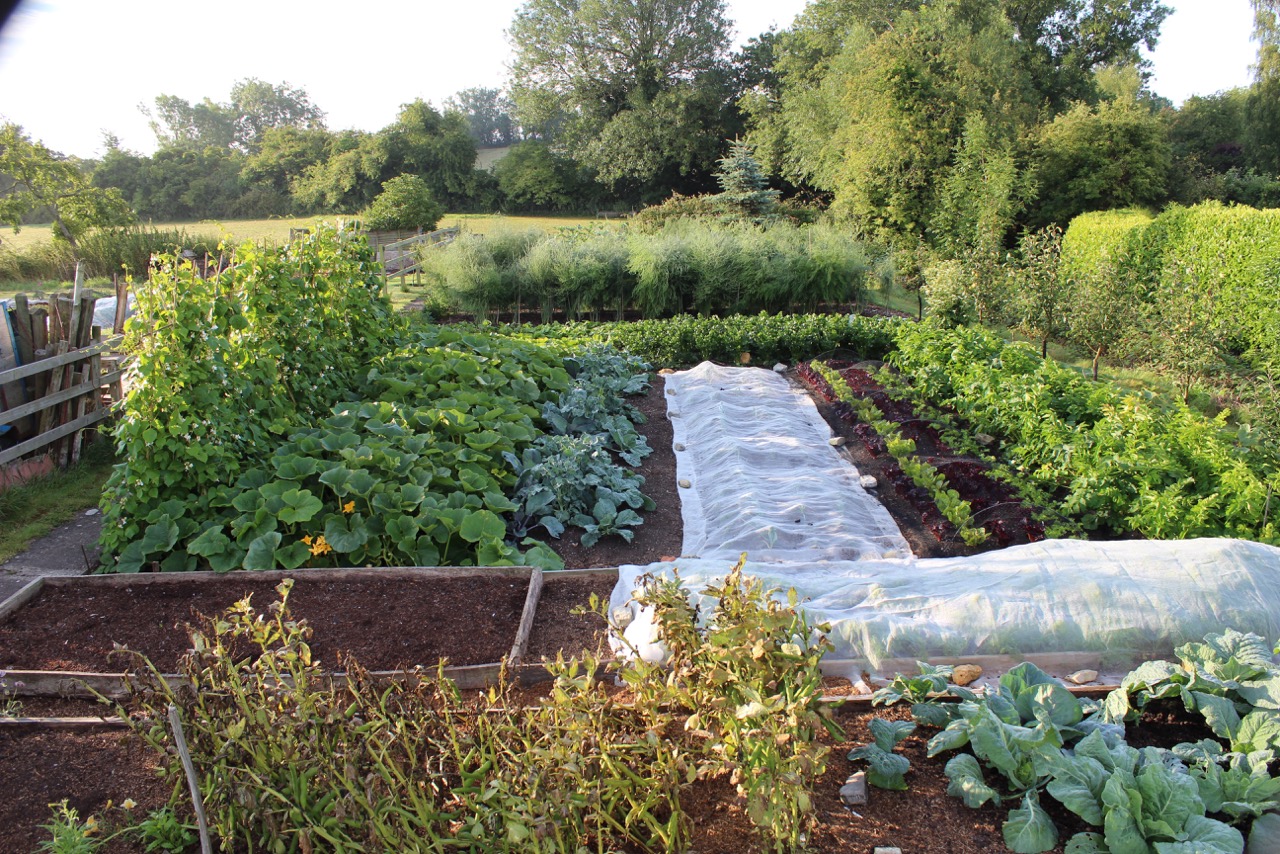 (Images show the same area of Homacres in April 2015 and August 2015)
No dig is becoming respected as a valid approach, but this hasn't happened until recently in the 'wider world.' Many small growers ask me how big an area you can manage without cultivations and I think the main thing is to grow high value crops on untilled ground, while cultivating larger areas for potatoes and low value vegetables. In the 1980s I cropped seven acres of beds, all no dig, employing four people in the season, and it worked, just… but vegetable prices are now lower, in real terms.
I am also a specialist in salad growing and have developed methods of picking lettuce in particular, which prolong plant life and make it more viable to crop smaller areas; for example September-sown lettuce crops from late November to early June in the polytunnel. Many growers seem to find my 'Salad leaves for all seasons' book useful.
Motivations
I have been a market gardener since 1982, after leaving university in 1980.
My favourite inspirational writers were organic pioneers in the 1920s-50s: Eve Balfour, Albert Howard, FC King, and Ruth Stout from the USA. Only the latter said much about not cultivating the soil. I wanted health from and for the land, and when I started growing in 1982 it was revolutionary to grow organically, let alone no dig. In general there seemed to be little interest in soil life and no dig was not on the radar, but I felt it was the right way to go. Now I know it is.
Since 1982 I have created four different gardens. In the 1980s I cropped seven acres, with four helpers in the season. My gardens have become smaller as I grow older and Homeacres' quarter acre is certainly the most intensive, with £21,000 gross output last year, mostly of salad leaves for local restaurants and shops. I need to earn money for sure but that is not my main motivation. As time has gone on, encouraging others to grow more food in easier and simpler ways has become increasingly important to me. I am in it for health reasons, to grow and sell nutritious food.
I love the no dig approach for how it allows soil organisms to live and grow in peace, and for how it means less growth of new weeds. For example, I have noticed during nine years of running a dig/no dig experiment, that the dug bed needs more hoeing and weeding than the un-dug. Add that to the time spent digging, and extra time for cleaning root vegetables (they come out dirtier from dug soil) and it all mounts up. No dig saves time and effort. Without it, I would not still be growing, as market gardening is so marginal economically.
A key goal is to host many visitors at Homeacres who can see the simplicity and productivity of a no dig approach. I am proud to share my knowledge with so many people through books, videos, talks and courses, it feels worthwhile. I have been receiving fantastic testimonials from allotmenteers around the UK, for example two ladies in Sussex noticed that their un-dug allotments were the only un-flooded ones in wet, winter weather.
Kew Gardens in London now apply no dig to their vegetable garden that is run by Joe Archer who was on the TV programme "Kew on a plate" in 2015. Tony Kirkham, Head of the Arboretum and Horticultural Services at Kew, is impressed by no dig and thinks it is a great method. Sissinghurst has a successful no dig kitchen garden, and many, if not most, small flower growers in England apply the no dig approach. Oisin Kenny in Galway runs a fantastic no dig market garden….. It is a growing field, and I receive many enquiries about it from around the world.
---
You can find out more about Homacres and the dig/no-dig experiments by subscribing to Monthly Updates and following on social media.
Listen to Charles talk with Daylesford's Tim Field (recorded in May 2020) about some of his practices and motivations here: