Smiling Tree Farm is a 70 acre pastoral farm that focuses on regenerating soil health through the use of mob-grazed ruminants raised exclusively on diverse permanent pastures, wildflower meadows, special fields of herbs, and browsing trees. We are, in effect, turning sunlight into meat and milk.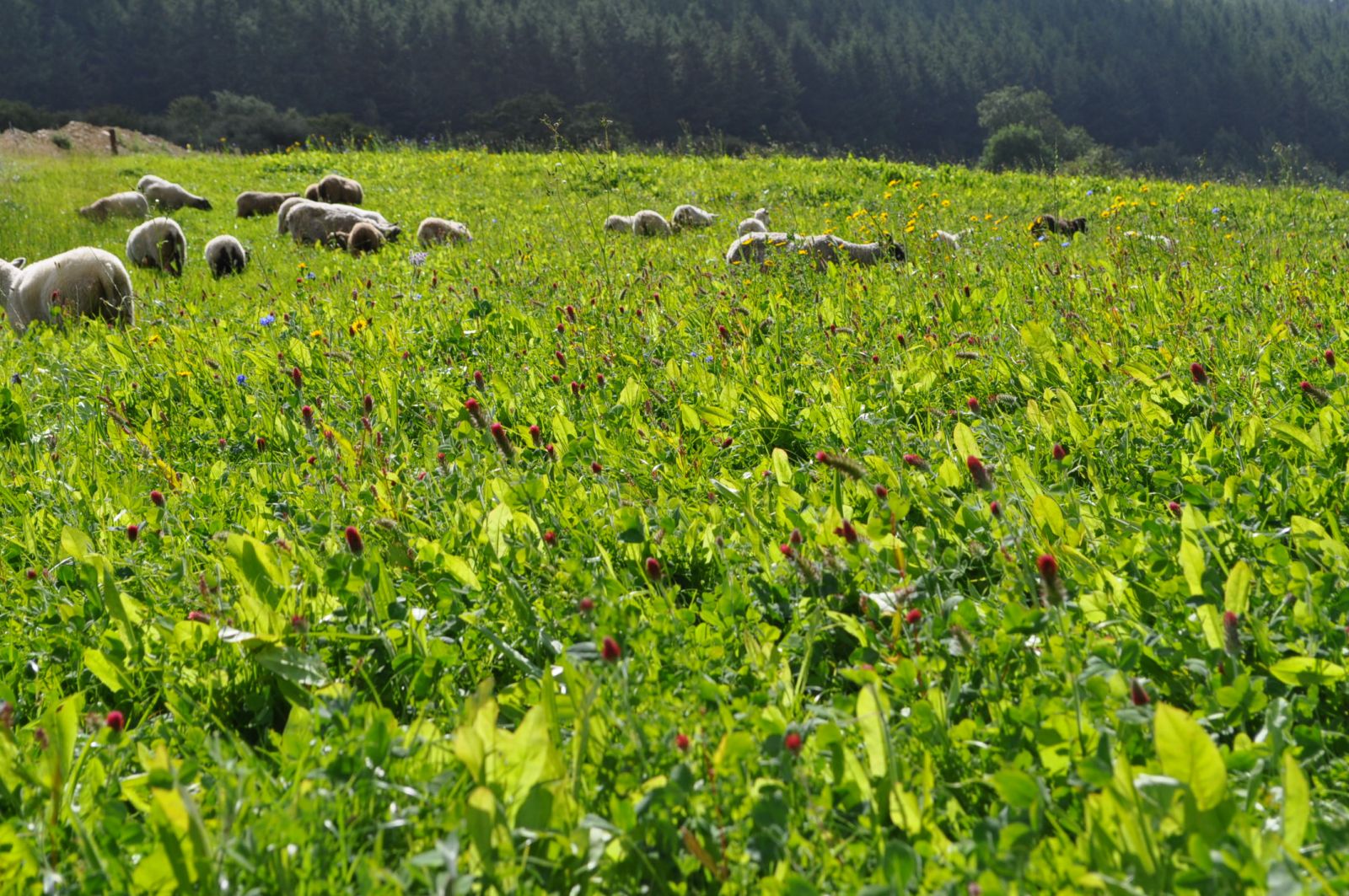 (Shetland sheep grazing a herbal ley)
The farm has a small suckler herd of pedigree Traditional Hereford cattle producing slow-matured beef, a micro-dairy with Jersey cows producing raw milk, cream, butter and rose beef, and a flock of pedigree Shetland sheep producing lamb and hogget.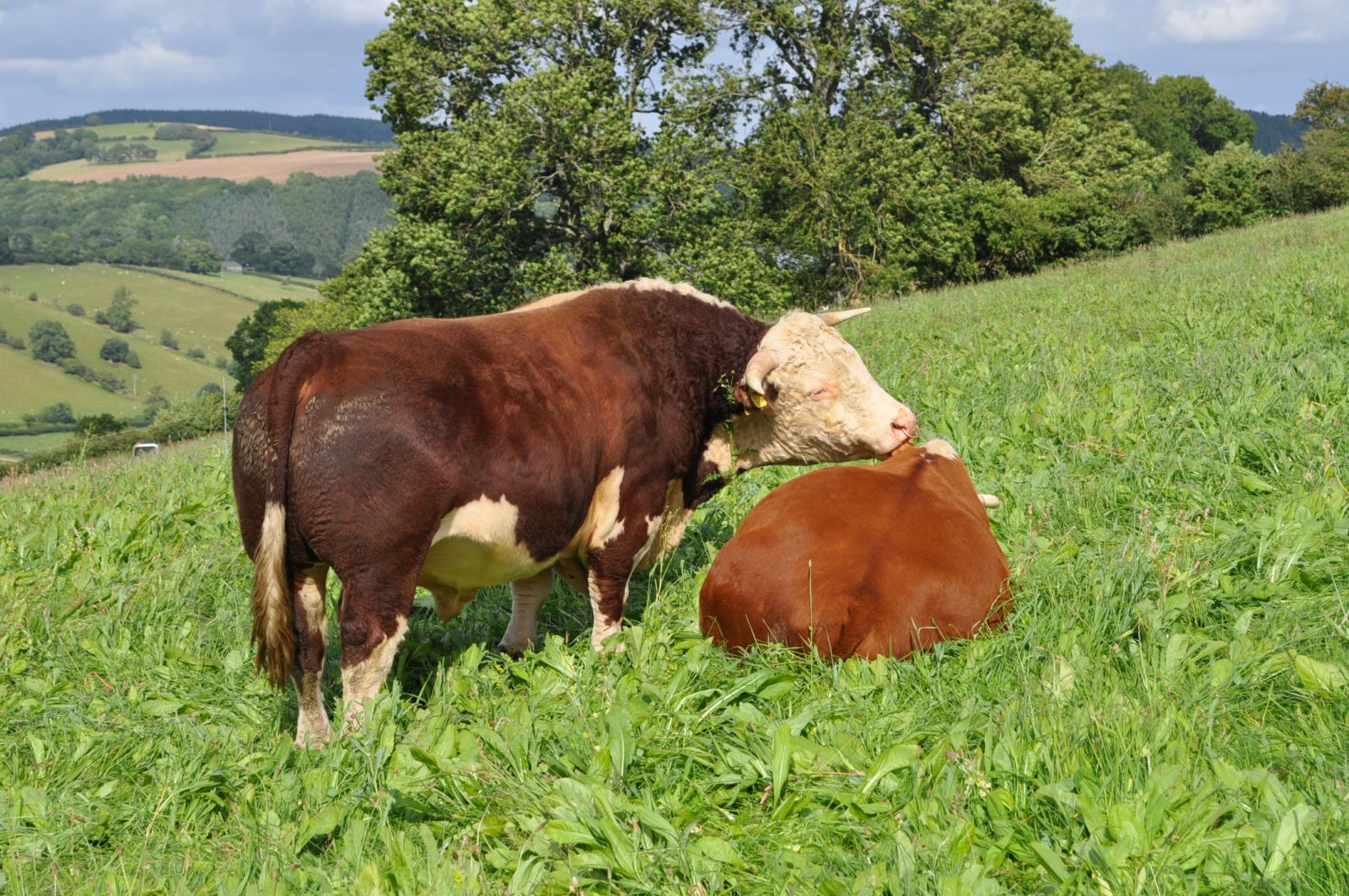 (My Traditional Herefords in a herbal ley)
All the produce is organically raised (we are currently in the process of obtaining certification), antibiotic-free and certified Pasture for Life by the Pasture-Fed Livestock Association. This means the animals are fed on a wholly pastoral diet of grasses, forbs, herbs, wildflowers and browsing hedgerows, a diet free from grains, soya or manufactured feeds. This natural diet is not only healthier for the animals and the planet, but gives the produce an exceptional depth of flavour and a significantly better nutritional profile: higher in heart-healthy fats, vitamins and minerals.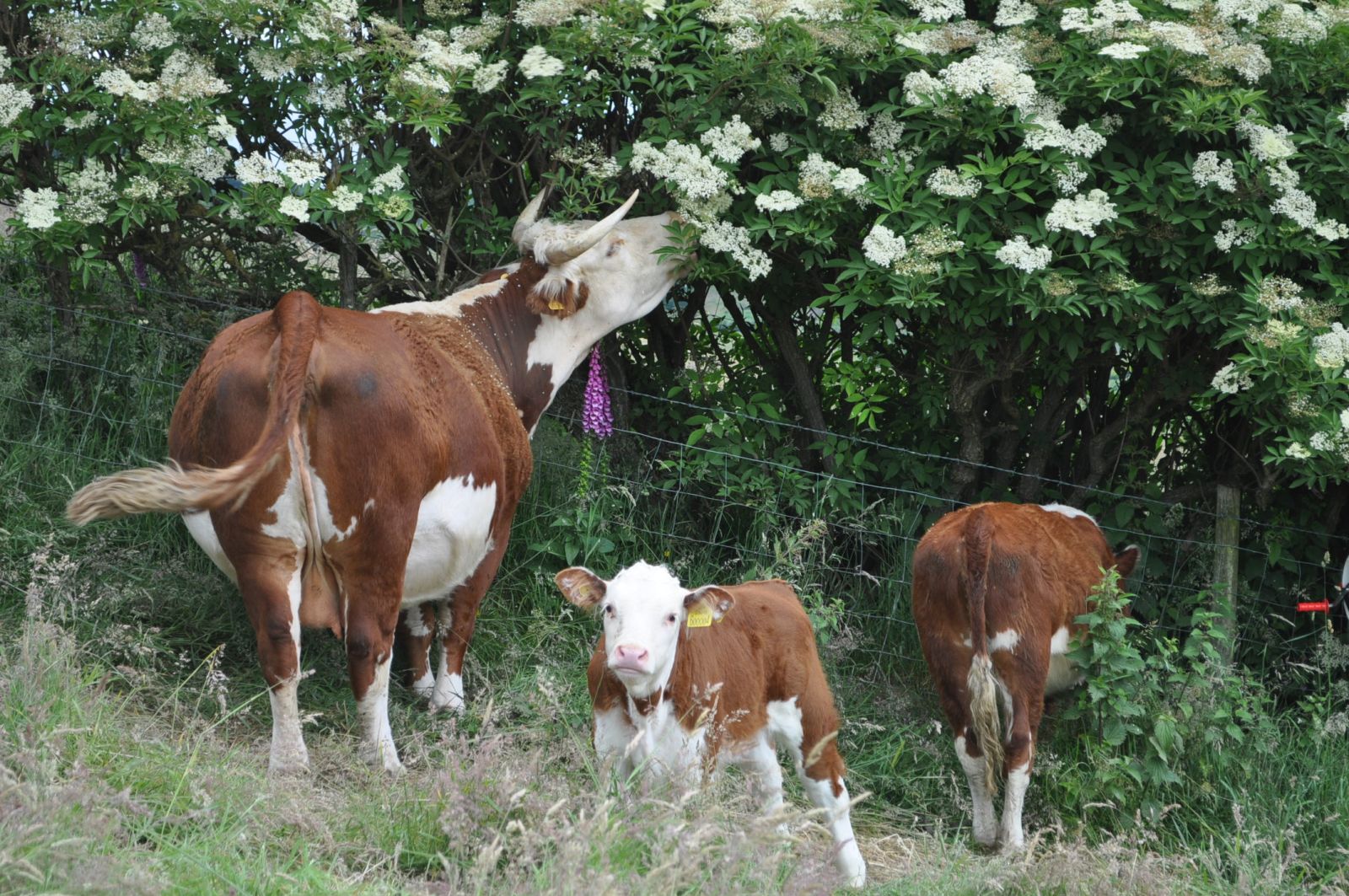 (Browsing hedgerows)
We have our own on-farm butchery and creamery facilities, to ensure the highest quality processing. Customers collect their produce direct from the farm shop in an almost closed-loop system.
The farm business has a triple bottom line: People (our customers, visitors & those we help to establish similar farming systems), Planet (our land & livestock) & Profit. We focus on the first two, and find the third follows.
Sustainability in practice
Holistic planned grazing
In 2014 I completed the Holistic Management courses with Kirk Gadzia, run by RegenAg UK, and subsequently implemented holistic planned grazing (mob grazing) on the farm. This has had a profound effect on productivity, health of the livestock and the overall farm biodiversity.
Mob grazing replicates the natural behaviour of wild herds of grazing animals that move regularly as a bunched group to find fresh grazing and keep predators at bay. During the growing season we replicate this by moving our cattle and sheep to fresh pasture every two or three days; they don't return to the same grazing area for weeks or even months. Grazing grass in this way benefits not only the animals but also the health of the land, the wildlife and the wider ecosystem.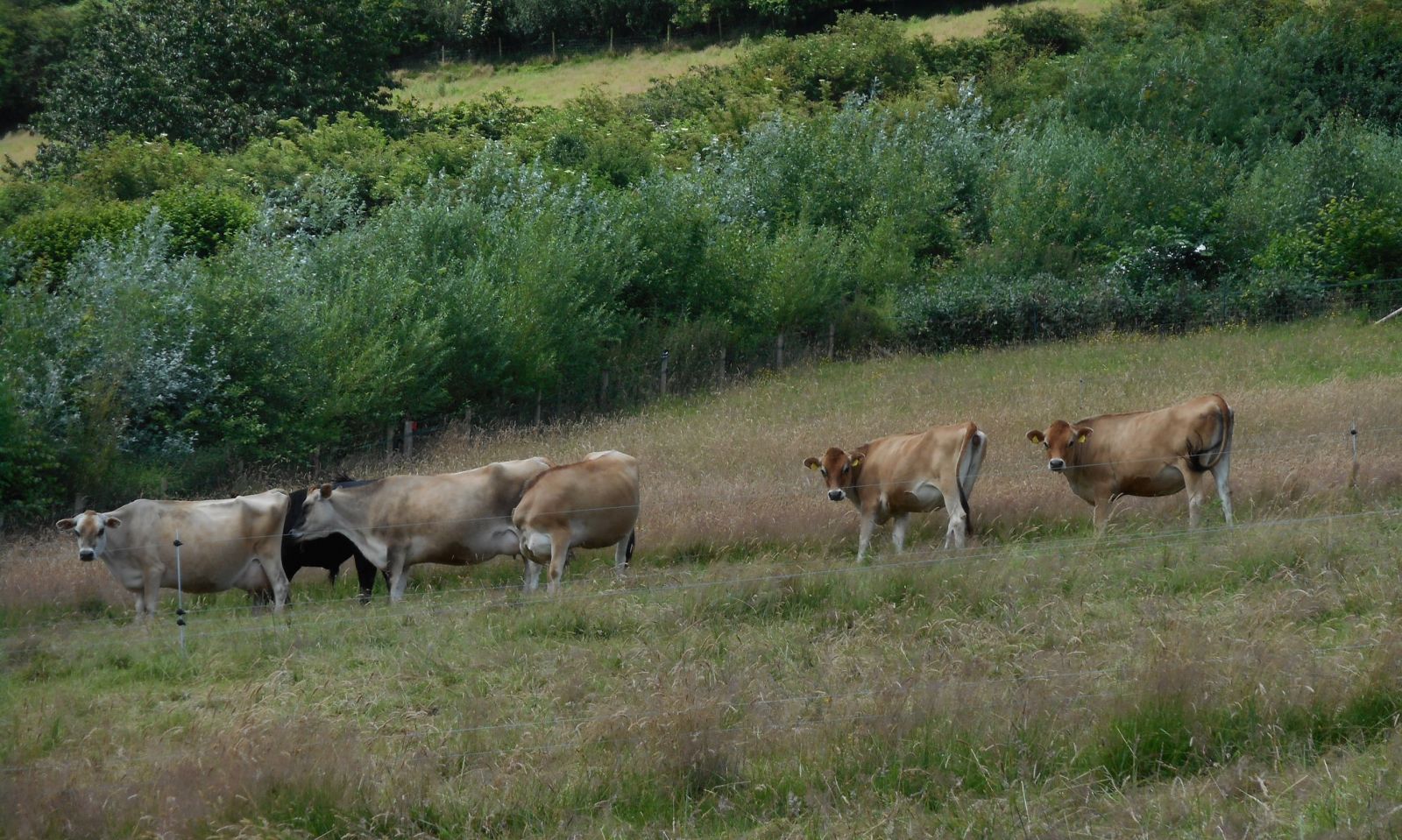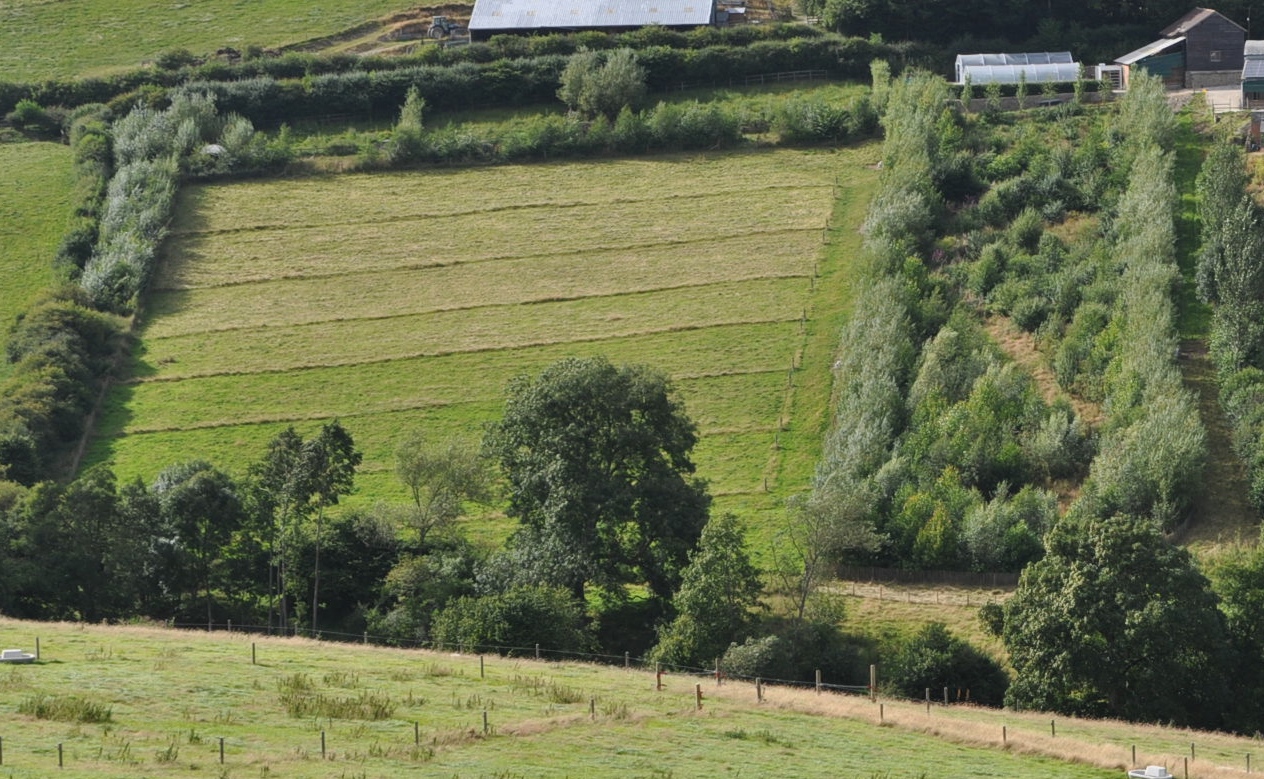 (The micro-dairy Jersey herd in their mob-grazing paddocks (notice the many trees – vital part of the ecology & health of the livestock), and those same paddocks from the other side of the valley, where you can see the grazing lines and my forest garden on the right)
Moving regularly to fresh pasture stimulates competitive 'mob' behaviour of grazing more evenly and less selectively, which leads to a wider diversity of plant species and increased animal performance. Manure is also spread more evenly and there is less compaction as the livestock don't roam far searching for food.
Mob grazing paddocks typically grow tall plants due to the long rest periods, and when stock are turned in to the field, the aim is for them to graze a third of the forage, trample a third and leave a third behind. The idea of trampling and leaving grass can be quite challenging for those used to a more conventional system of set-stocking and leaving little residual. But with good planning and focused implementation, mob grazing can lead to higher carrying rates and more resilient pastures.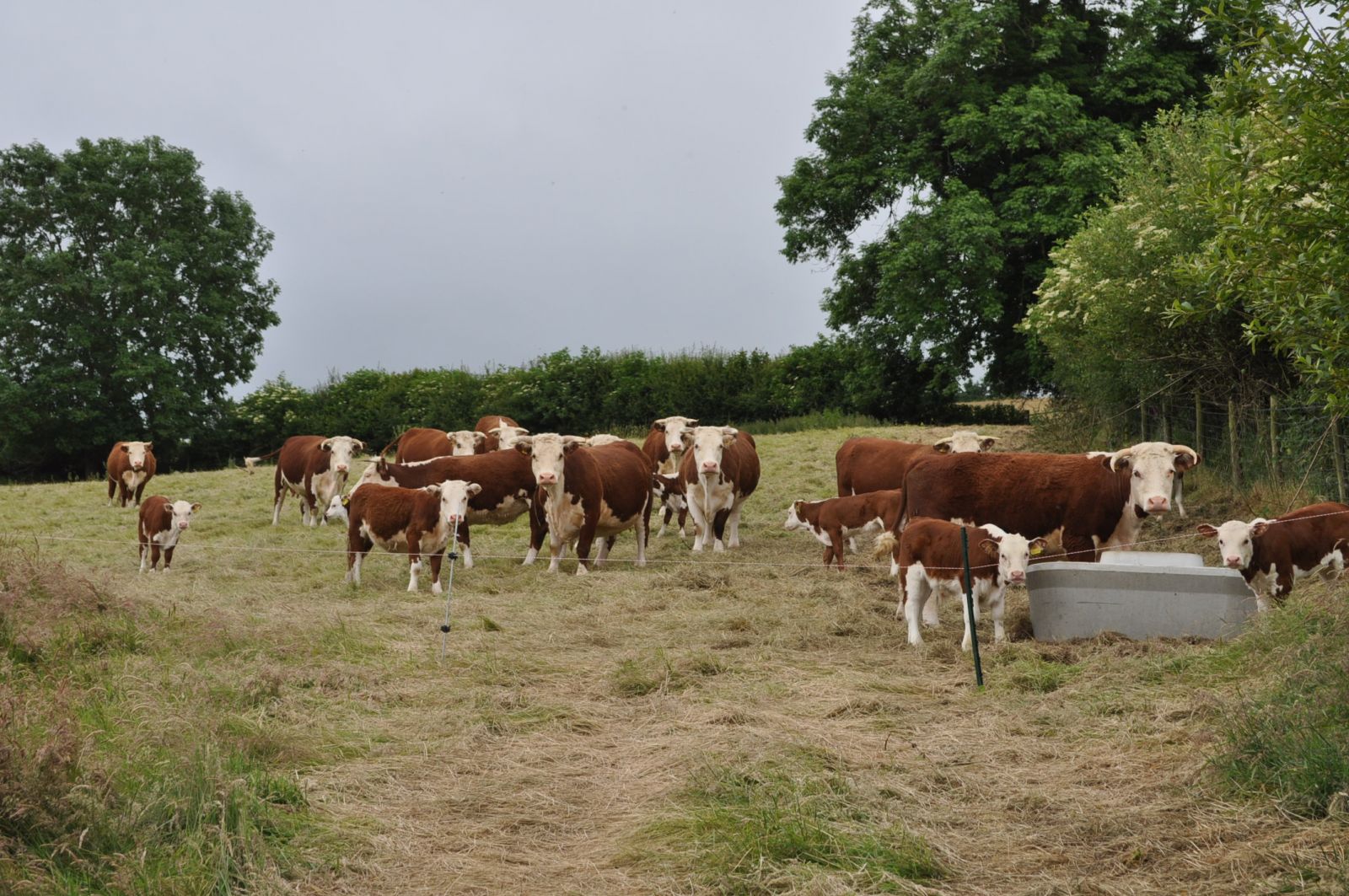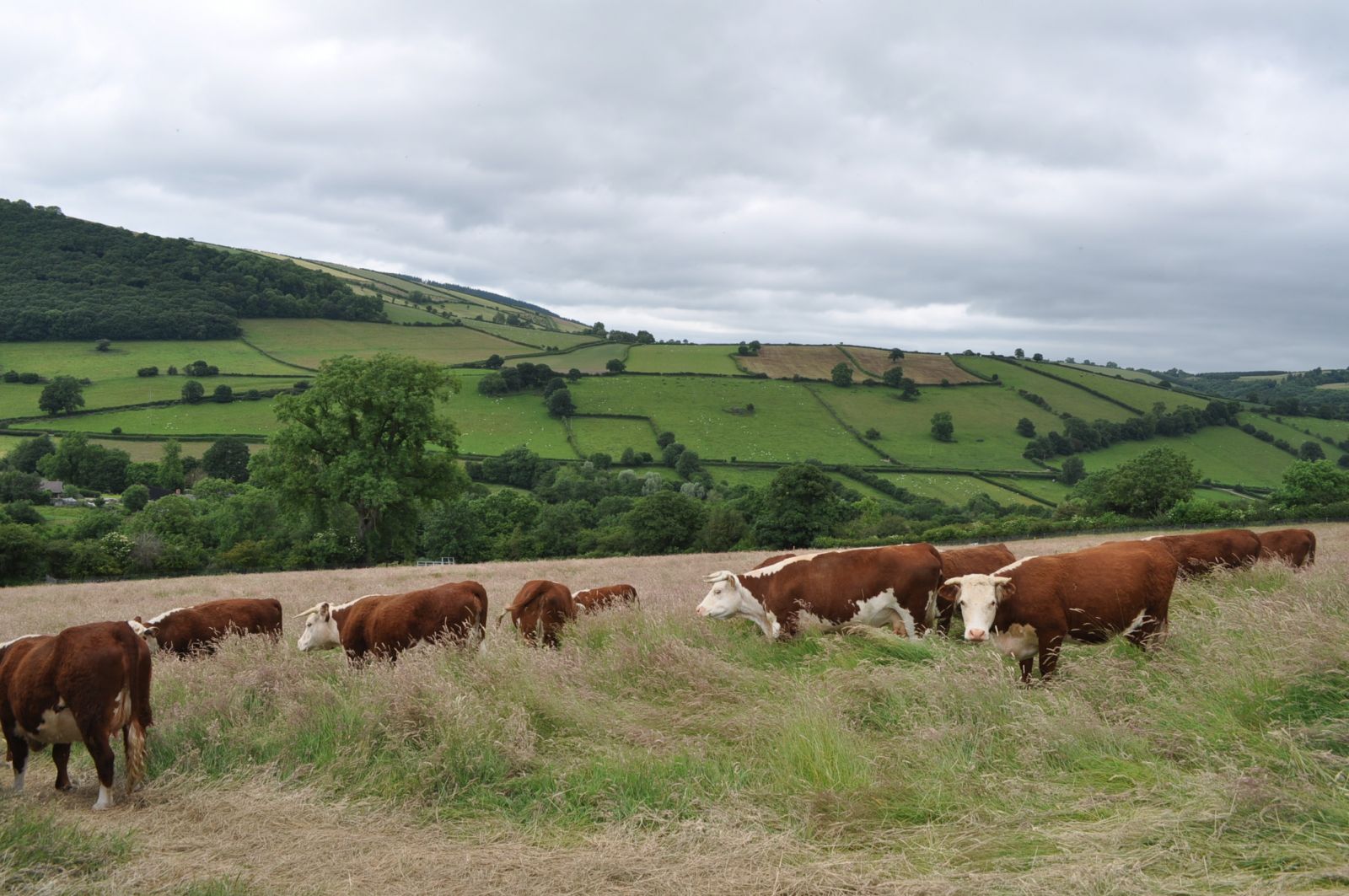 (My herd of Traditional Hereford cattle just before a move into their next mob-grazing paddock and just after…)
Grazing a third: Each time a cow takes a bite of grass it triggers that grass to pump carbon into the soil and, in a symbiotic relationship with soil microbes, the grass takes up nutrients and puts on a growth spurt. It's important to move the cattle before the grass gets long enough from that growth spurt for them to take a second bite. When a plant is continually bitten down over a period of time it gets weaker through not having enough leaf area to generate the energy it needs to grow. The lack of energy also means it can't support a deep, healthy root system and is eventually forced to slough off an extensive part of its roots.
Leaving a third: The leaf area is the plant's solar panel. Leaving behind a third not only allows for faster re-growth but, instead of shedding roots in response to over-grazing, plants become more resilient by growing deeper more robust root systems.
Trampling a third: Trampled plant matter helps protect the soil surface from drying out, feeds the soil to create organic matter (which develops a more diverse and healthy soil life), builds top soil, enhances water retention, and in all these ways supports stronger, healthier plants.
Correctly planned and well implemented mob grazing is the perfect tool to sync the unique ability of a ruminant to convert unpalatable fibre into highly nutritious meat and milk, sequester carbon through the 'poop loop' and provide ecologically diverse, resilient pastures that benefit a broad range of wildlife.
To get off to a flying start with mob grazing I would advise that it's essential to spend time planning; the optimum size of paddocks, the grazing period, the rest period, access to water and shade, etc. Never more true is the saying 'if you fail to plan you plan to fail' than when first implementing this grazing system. If at all possible, go on one of the Holistic Management training courses run by RegenAg UK or 3LM.
From my training with Kirk Gadzia I developed such a strong conviction that mob grazing would work that I invested upfront in permanent water troughs in 75% of the areas I planned to mob graze. I also installed permanent electric-fenced paddocks for the all the areas to be grazed by the micro-dairy herd, and for around 30% of the beef herd. I use temporary electric fencing for the remainder.
This initial infrastructure and careful planning made the first year much easier to practice and I felt more in control of the process.
Motivations
I have been a long-time believer that food is thy medicine. As well as being a professionally trained cook, I have formally studied nutrition and sought to increase my knowledge of nutrition and health for decades.
My learning has led me to the conclusion that flavour and nutrition are inextricably linked. Through evolution our innate desires and preferences would have been to hunt and gather food that contained a broad range of health-giving nutrients. A palate, uncorrupted by refined and processed food, would have sought out foods with complex nutritional richness and it is this that we would have experienced as a meal that was tasty and nutritious as well as satisfying.
Whether we are consuming meat, milk or plants, the flavour starts in the soil. Plant roots create a myriad of connections with soil microbes, and through these links a plant is able to exchange simple sugars and other 'exudates' for the nutrients it requires in order to produce the thousands of different compounds and phytonutrients it needs to grow, reproduce, attract pollinators and protect itself from disease or pest attack.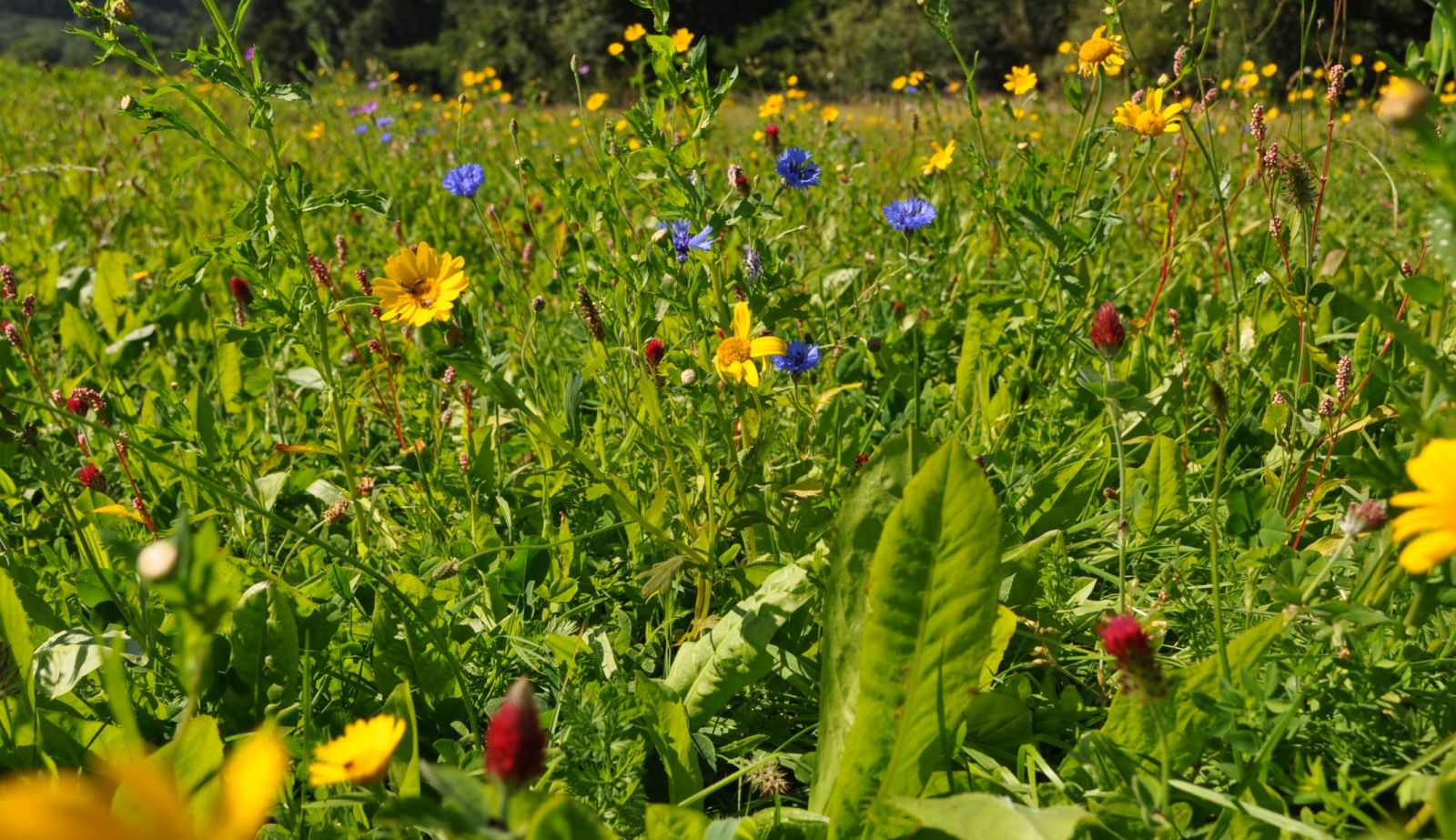 (Diverse herbal ley)
The more diverse the plant species, the healthier the soil; the more diverse the soil microbes, the broader the range of nutrients the plants can acquire; all of which leads to more robust, nutritious and flavoursome plants. These qualities are then passed on via the grazing animal to humans, who benefit in both taste and health.
There are other factors that affect nutritional richness and complexity of flavour; geographical location and type of soil (the local 'terroir'), the farming method and grazing system used, as well as the breed of animal and speed of growth.
Given the above, and knowing that artificial fertilisers and sprays are all highly damaging to soil life, it was a no-brainer for me to buy organic. But on looking into organic farming methods, especially those on a large enough scale to supply supermarkets, I realised that monocultures were common, with livestock often raised on not much better than monocultures (rye grass / clover leys) and still fed significant amounts of cereal grains. And further, that derogations for the use of systemic fly sprays, wormers and more could be granted but are not declared on produce labels.
So in 2006, I moved to south Shropshire with a simple vision to produce the nutritious, flavoursome, chemical-free food that I wanted to eat. I didn't realise at the time quite what an enlightening, life-changing journey it would be but ten years later our super-nutritious, tasty, 100% grass-fed 'beyond organic' produce is highly sought after by compassionate, well–informed consumers.
FARMER TIPS
Time spent planning will save time in practice
Plan your paddock sizes based on stock weight & duration of grazing (1-5 days grazing)
Create a grazing plan at the start of the year & ensure you plan adequate rest periods
Consider how to set up your electric fencing and use 'cut-out' switches so you can liven only the area you are using
Get your advice from someone who is successfully doing what you want to do & better still go on some holistic management training courses
---
You can find out more about activities at Smiling Tree Farm by reading Christine's blog and following on social media.
---
Interested in exploring different perspectives and farmer experiences in relation to mob grazing? Have a look at:
All images courtesy of Christine Page www.smilingtreefarm.com (All Rights Reserved)