We are lucky enough to farm on the border of the spectacular Northumberland National Park, between Berwick-upon-Tweed and Alnwick. North Bellshill and Amerside Hill are mixed farms together extending to 202 hectares (500 acres). We have an expanding herd of Aberdeen Angus suckler cows, and an expanding flock of Texel and Suffolk cross ewes. We have a strong tradition of combining environmental care with sound, practical farming which runs right through the business.
Good record keeping is central to the livestock enterprise. A flock and herd health plan was set up a couple of years ago in conjunction with the vet. This simple management calendar helps to address any health problems and identify potential problem areas. The sheep graze the permanent pasture and are brought indoors four weeks prior to lambing to well ventilated sheds where they have plenty of access to light and space. The sheep are fed according to their requirements and the number of lambs they carry, using the information from scanning. The ewes are split up into lambing groups; singles, twins, and triplets, and great care is taken to ensure there is more than adequate feeding area for each ewe.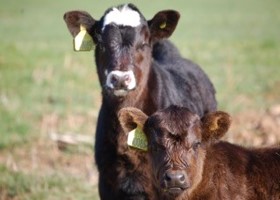 The cow herd is ever expanding and is made up of a mixture of traditional breeds. All replacements are home bred and the terminal sires are chosen on their EBV's, ease of calving being most important. Some of our prime lambs are sold to local restaurants and we are always seeking out other local markets. We run a fully traceable system and are FABBL and LEAF Marque certified.
In addition to the livestock we currently have one holiday cottage which is rented out for the majority of the year and are putting in plans for a second one.
Sustainability in practice
Practising Integrated Farm Management
Here at North Bellshill, we farm to LEAF's Integrated Farm Management (IFM) principles. We are a LEAF Demonstration Farm and IFM acts as a useful framework to base our business around.
IFM is about taking a whole farm business approach that delivers more sustainable farming. For us, this means focusing on a profitable business that also enhances the beautiful environment in which we live and engages the local communities in what we are doing. With IFM, attention to detail is key, alongside appropriate and effective use of inputs and smarter approaches to business planning. The business here has undergone substantial change over the past years and having a forward-looking approach has always enabled us to keep moving the business forward. LEAF tools, such as the LEAF Sustainable Farming Review, help us do this by ensuring we take an annual step back from the business and assess what we are doing in all sections of IFM and how we can move forward.
Soil management and fertility has been particularly important for us and is managed very carefully at Amerside Hill Farm. Management techniques are tailored to individual fields and rotations. Non-inversion tillage techniques are used wherever possible to maintain soil structure. Organic matter additions are also very important… we may introduce a barley crop into the rotation to enhance the soil structure.
Over the years we have conducted a range of positive environmental management projects under the Countryside Stewardship Scheme – including hedgerow regeneration, stonewalling and creation of an area where no nitrogen is applied and there is limited grazing, to provide a better balance of wildlife habitats. Grass margins have been established around all fields which act as buffers preventing spray drift from reaching hedge bottoms whilst providing feeding and hunting grounds for birds, small mammals and insects.
Hedges are managed sensitively and cutting is carried out in rotation and outside of the nesting season. Grey partridges, barn owls and lapwings are regular visitors to the farm and habitats are managed to ensure their continued survival. Great attention is given to resource protection. Over 6 hectares of stream and riverbank have been fenced off and planted with traditional woodland. As well as protecting watercourses, these also create valuable wildlife corridors and diverse habitats.
Motivations
My first driver in the industry was to help promote British food with a positive message. I realised that all businesses, including farms, need to be advertised. This is especially true in British farming as the industry is often battling against negative stories. As a result of this ethos we started to encourage the public to come to our farm and ask questions. These thoughts developed into developing a business that practices and justifies its actions in food production.
A key part of this journey was becoming a LEAF Demonstration Farm in 2005. Since then we have hosted a huge range and number of visits here. A number of years ago, we built the Hedgerow Classroom, an on-farm purpose built classroom that acts as an ideal space to host on-farm events. This facility is used throughout the year to host a range of groups on the farm. We host an Open Farm Sunday event most years and we are also heavily involved in LEAF's Let Nature Feed Your Senses project which encouraged inner city school groups, groups with learning disabilities and sensory impairments, and older people with dementia, to experience farms via sensor-rich visits.
When hosting visits, it is important that we have a good story to tell and for us, this focuses around our first consideration; the environment. "If we don't look after our soil, the soil won't look after our crops" is the comment we always use. We also often say "if it was easy everyone would do it." Whenever we have a new project within the business we always assess the worst-case scenario on paper. If it doesn't work first time we don't fiddle the numbers to make it work! We start again.
Find out more by visiting the website for North Bellshill and following John on social media.