Our vision for Conygree Farm is to develop a diverse sustainable farm business following holistic and regenerative principles. We seek a range of environmental, community and economic outcomes with the aim of putting more back in than we take out – rebuilding natural, social and financial capital.
The system is low input/premium output, respecting flora, fauna, landscape, heritage, air, soil and water. We aim to be energy efficient and build soil carbon. Although commercially smart (the farm must be profitable) livestock numbers and crop yields do not drive the business.
"'To be a successful agroecological regenerative farmer, going beyond sustainability, it must be in your heart….following prescriptions and policy will never be enough"
Our primary objectives are focused on restoring species rich limestone grassland (45 hectares (ha) of wildflower meadows) and providing nesting/feeding habitat for farmland birds and pollinators. Herb rich leys (14 ha) are also an important part of the mix. Much of this work is funded by the Countryside Stewardship scheme.
Our rare breed livestock (60 Cotswold sheep (some crossed with a Hampshire) and 15 Traditional Hereford cows) are our grazing tools producing premium beef, lamb and hogget. We also finish a few traditional breed pigs a year.
As our stocking rates are low (0.4 LU/ha) adding value by direct sales in crucial to our business model. We keep this simple. All of our meat is sold direct to local customers via our pop-up farm shop.
Our Pasture Fed ethos (assured by the Pasture Fed Livestock Association) means that our animals eat a natural diet of grass, wildflowers and herbs – never any grains or imported soya. We are also fully organic (assured by OF&G).
In 2019 we set up a no dig market garden joint venture with a young new entrant (see www.cotswoldmarketgarden.co.uk). This garden covers 3 acres producing 60 different salad, herb and vegetable crops supplying local restaurants, hotels, farms shops, our pop-up farm shop, and households. Expansion is planned in 2022.
We also have a beehive joint venture on the farm, drawing from our flower rich habitat. We work with www.cotswoldbees.co.uk and sell all our own honey. Income is supplemented by a small DIY livery, educational work and agritourism activity. Our glamping and tipi wedding business (Cotswolds Under Canvas) is a new joint venture working with a colleague leaving the forces.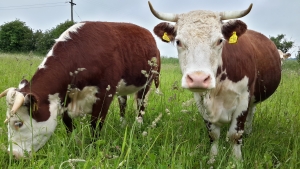 Sustainability in practice
Pasture for Life at Conygree Farm
Following the Pasture for Life ethos is at the heart of our farm business as it combines many of our beliefs. (Find out what drives our commitment here

Pasture for Life – The ethos.pdf).
We are certified farmer members of the Pasture-Fed Livestock Association (PFLA), which allows us to use the Pasture for Life label and QR code traceability system on our meat.
The PFLA helps to promote the ethos, our farm and our products, and quite a few of our customers have come to us through their website and marketing. The direct to consumer and retail market for guaranteed 100% pasture fed meat and milk is growing – we are in very exciting times.
We also find being part of the farmer friendly PFLA network invaluable. There is always someone out there willing to offer help with practical queries and technical information. It is such as positive organisation. This was the main reason I volunteered to be a PFLA Director from 2015 to 2019 – to help take Pasture for Life to scale.
Our records and Pasture for Life credentials are checked once a year by OF&G, as part of our normal organic inspection. Although there is an additional charge and a little extra paperwork this is kept to a minimum.
Many Pasture for Life farmers are organic, quite a few are conventional. Some, like us, are more extensive and nature conservation focused, while others are more commercial and practice high intensity mob grazing. Every farm is different but we all draw from agro-ecological principles.
In practice…
The sheep flock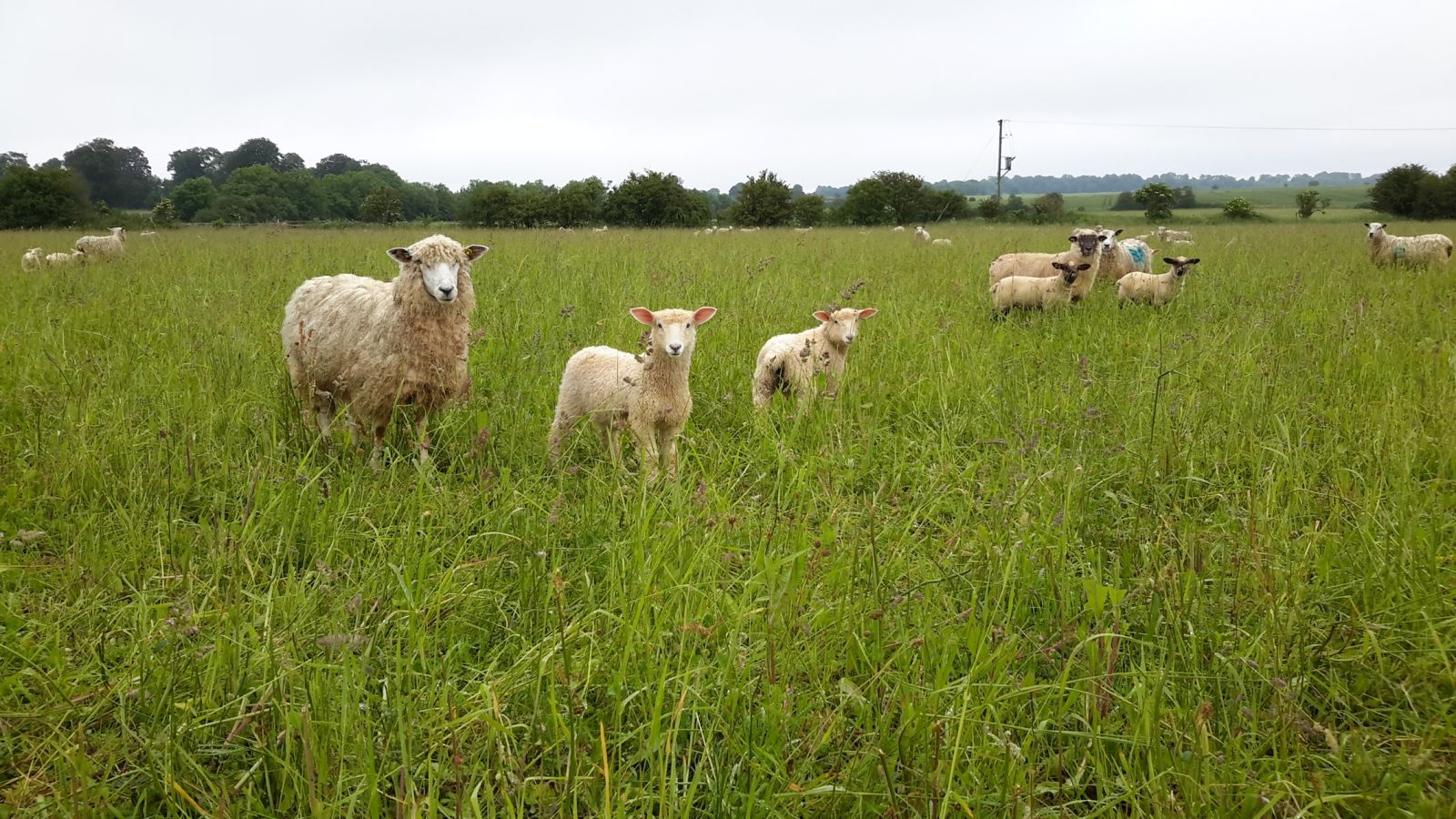 Our primary breed of sheep is the rare breed Cotswold, a heavy longwool type. The ewes typically lamb at 150% and are good mothers.
Replacements are bred from half the flock, with the other half put to a Hampshire ram to improve carcase quality. Both breeds fatten well on low input pastures with no supplementary feed.
Lambing takes place in April and May, outside, straight onto growing grass, with lambs weaned in August. Most of the lamb is sold direct to consumers from the farm gate – lamb from August to January, then hogget and mutton.
Lambs finish at 40 kg liveweight and hoggs up to 45 kg. Grades vary, but most are around R3H, yielding around 18 kg of cut meat, working closely with out abattoir/butcher (J Broomhalls Ltd in Eastington). We sell half lamb boxes (9 kg) for £74.
We do not push our animals too hard – some finish slowly which adds to the taste and spreads the time when they are ready to go in a box. We don't want them all ready in September. Proper pasture fed hogget, which has had its second spring at species rich pasture, is the best and one of our specialities.
We often get asked how we cope with pregnant ewes without recourse to supplementary feed? It is pretty simple. Native breed sheep are designed to thrive from forage, so as long as you accept a lower lambing rate and maybe a few extra days to finish, then it works. Select those ewes with the ability to finish on grass. We haven't lost a ewe at lambing with a metabolic disorder or a prolapse for 3 years – since we switched from Lleyn/Texel crosses and concentrates!
At £88 per ewe, our enterprise gross margin (GM) is higher than the AHDB Stocktake top third figure. However, our low stocking rate results in a low GM per ha figure of £277 compared to £660 for the Stocktake top third. But, crucially, once HLS grassland and traditional breed income foregone payments are added back in, the sheep enterprise GM stands at a very healthy £536/ha, plus all the additional environmental and public benefits. Our fixed costs (labour, buildings and machinery deprecation etc.) are relatively low resulting in a positive net margin.
The beef herd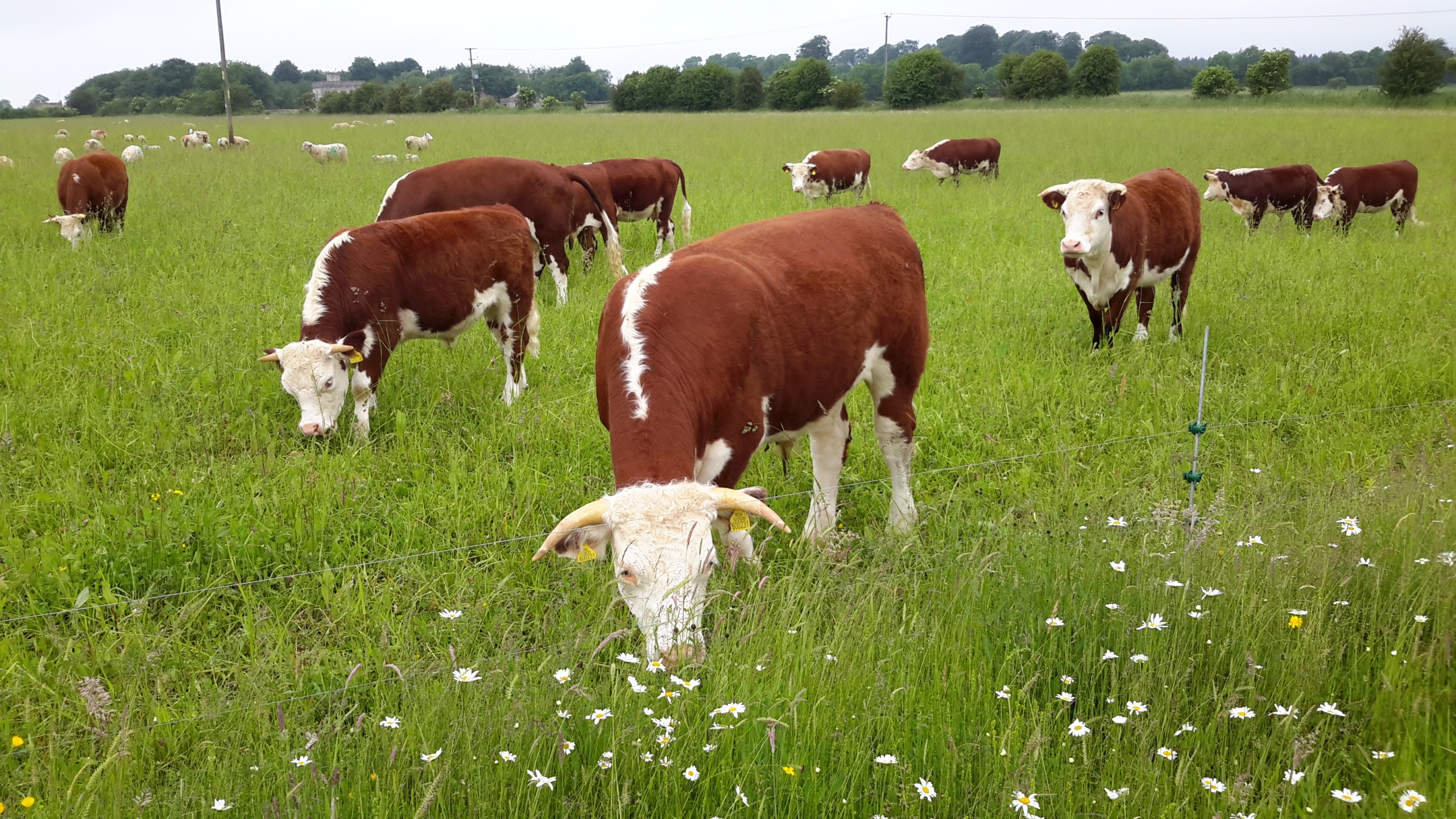 We are currently building a small suckler herd of Traditional (original population) Herefords. These rare and wonderful animals thrive on poor forage and create the perfect conditions for wildflowers and sward diversity.
We calve in spring straight onto grass following AI in late summer. We run the herd as a low stress family group with natural weaning.
Steers will fatten to R4L grade and 450 kg liveweight at between 20 – 28 months. Hung for 28 days and butchered, we get 200 kg of saleable product back from the abattoir. Our mixed beef boxes are £100 for 10 kg.
As seen with the sheep gross margins our beef margins are good. After butchery and marketing we are left with around £1300 per animal. Our only real variable costs are the AI charges as there are no feed costs other than nutrient buckets, low vet med bills and minimal forage costs. Fixed costs and depreciation are again low as we don't routinely house our stock or require expensive machinery.
Grassland restoration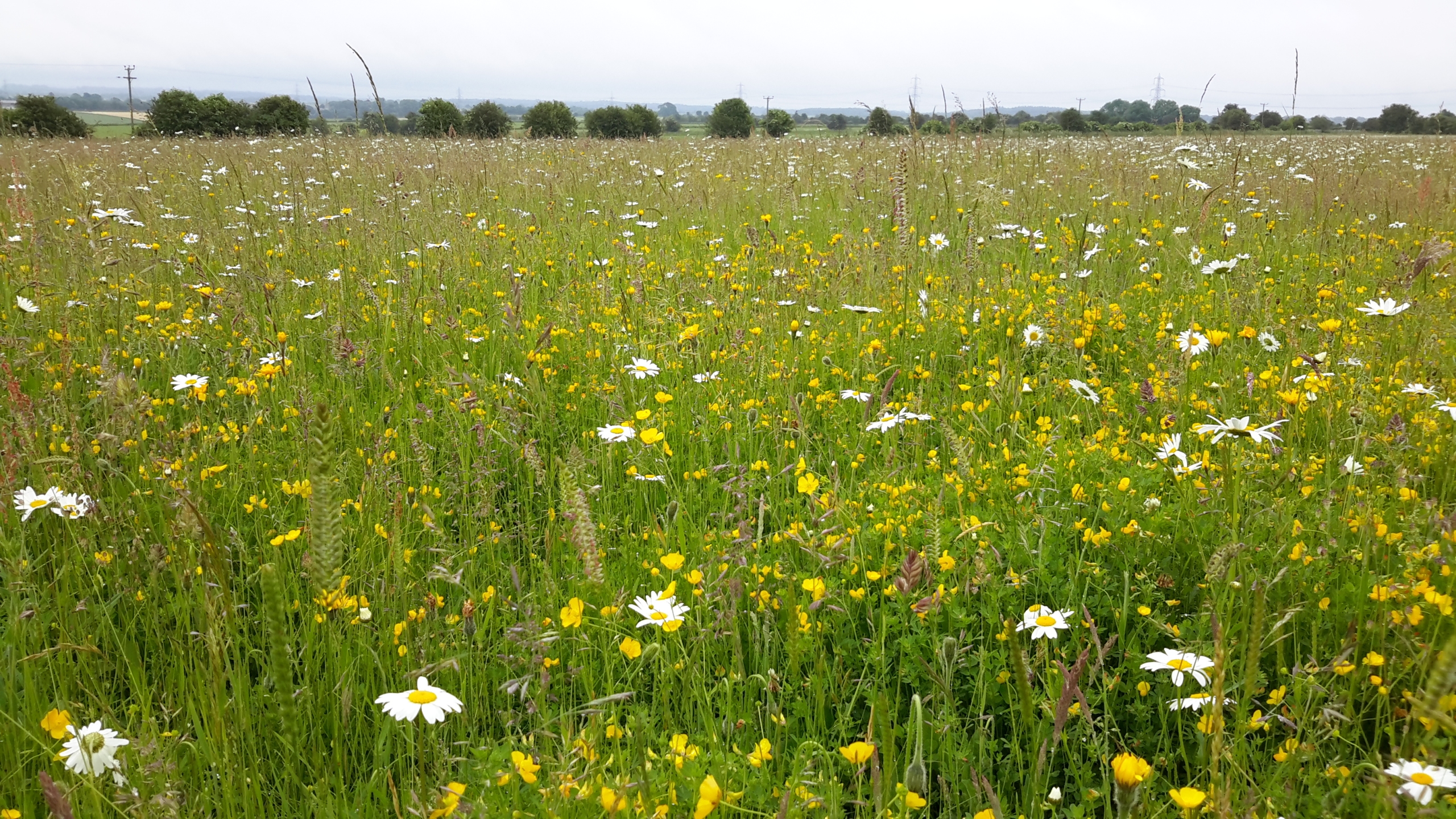 The farm was first entered into the Higher Level Stewardship (HLS) scheme (with Organic Entry Level) in 2010.
The main focus is the species rich grassland restoration work on 45 Ha. Half the fields were reseeded with native grasses and wild flowers, half have been left to naturally regenerate. We need low nutrient levels (P and K indices of 0 or 1) so no fertilisers can be applied, and herbicide use is a definite no. Thistles and docks are controlled by hand weeding. Where hay is taken we leave it until late July/early August so that plants set seed. If we feed hay outside in the winter we only use our own species rich hay.
Grassland restoration is a long term (30 year) project. We are seeing some wonderful results already with three types of orchid popping up and scabious, self-heal, vetch, cowslip and birds foot trefoil are abundant. Every field is different.
Our cattle and sheep (and insects and skylarks) love the sweet and diverse summer sward. However, winter grazing (deferred/stockpiled) can be of low quality and our stocking rate is limited.
Herbal leys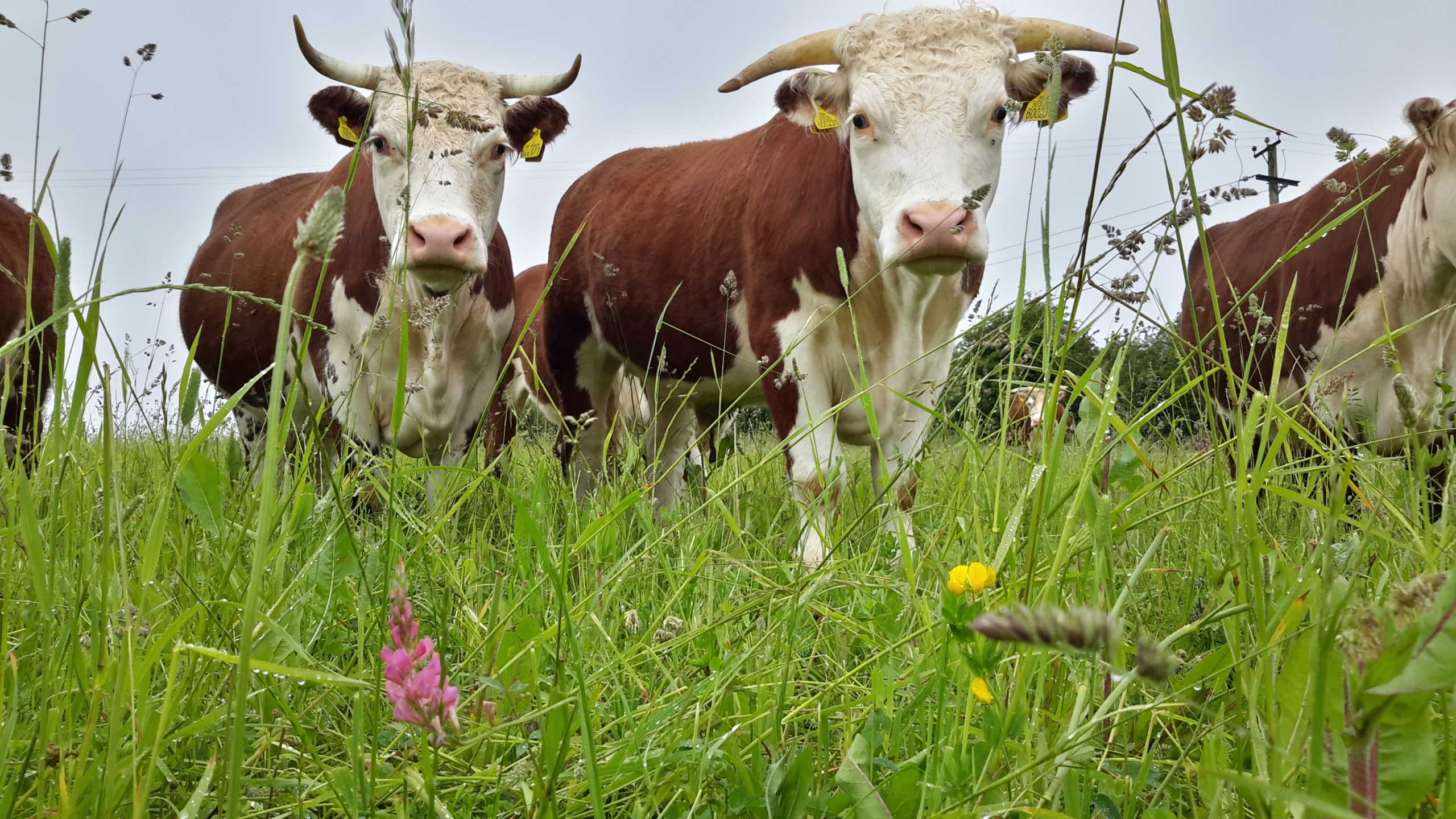 Our 14 ha of herbal leys (based on the Cotswold Seeds research and seed mix) contain a wide range of species including ryegrass, timothy, meadow fescue, several clovers, birdsfoot trefoil, sainfoin and chicory.
The various rooting depths allow the plants to draw up water and nutrients, and improve our soil structure (important for our dry 'brittle' soils). Current soil organic matter levels are at around 6% but we are aiming for 10%.
The leys provide an early green bite for pregnant ewes and hoggets.
Under our CS agreement the leys are then allowed to flower to benefit pollinators through the summer months. The bees go mad for the clover. Natural England pay us for shutting up the leys.
By late summer the sward is thick and the flowering chicory is head high! We then strip graze with the cattle. Fattening lambs graze the ley through autumn/winter.
In the first three years, the chicory and legume can dominate. By year three the grass content increases as the chicory fades. The ley is re-established every five years, rotating with the pollinator and wild bird covers (under sown where possible).
Providing habitats for farmland birds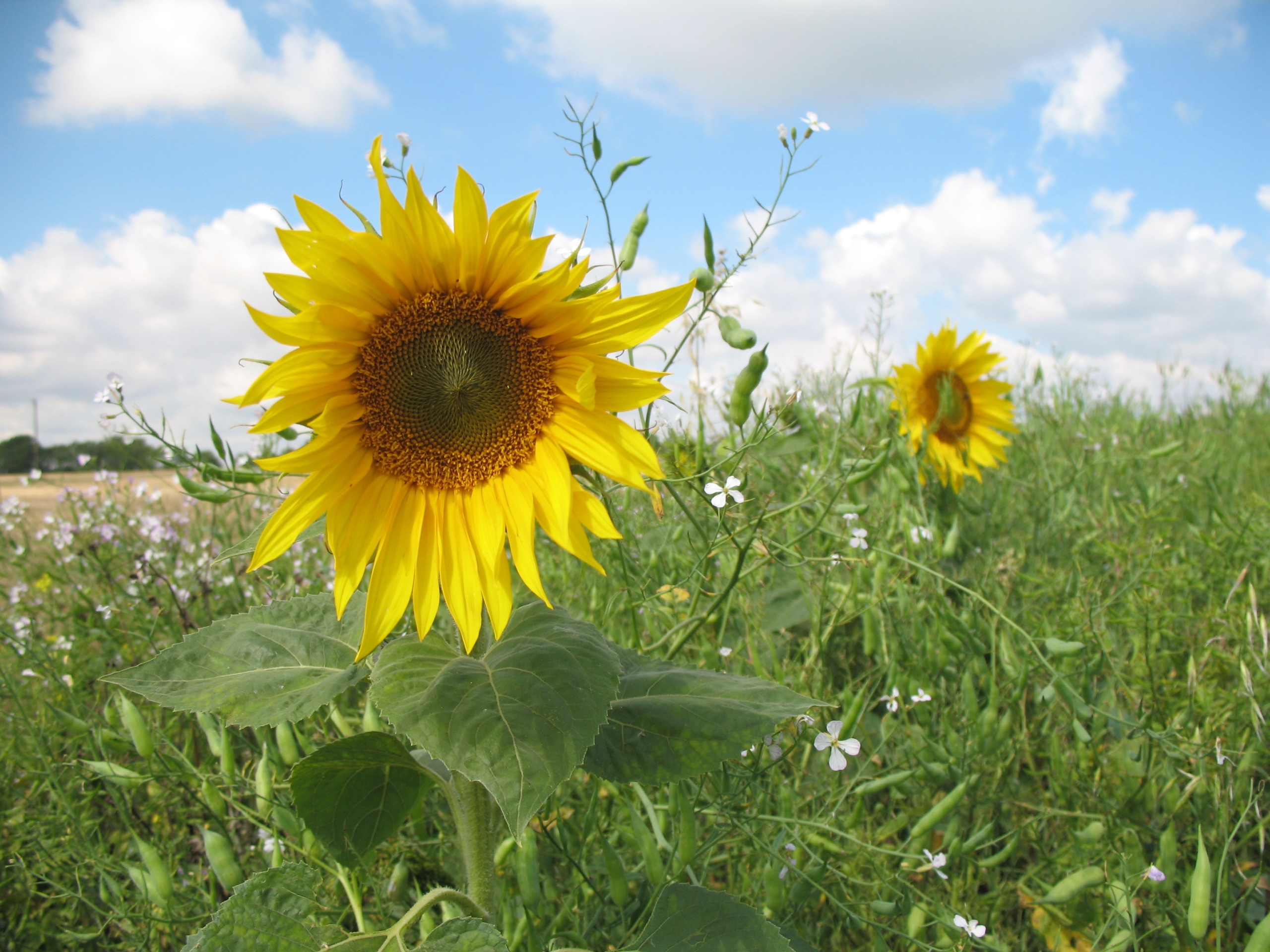 Around 15% of the farm is managed specifically for farmland birds and wildlife. I am not a bird spotter but I truly believe that recent farmland bird population declines reflect the general health of our farmed countryside. They are the litmus test – our pit canary.
Farmland birds, for example, corn bunting, lapwing, grey partridge and skylarks, require a number of things. They need lots of insects, they need seed in the winter and they need somewhere to nest (on the ground or in bushes/trees). We have lost much of this valuable mosaic at landscape scale.
At Conygree we grow 5 ha of wild bird cover (wheat, triticale, OSR, fodder radish and linseed etc.) which is drilled in the autumn and left to set seed for the following winter. We also manage around 3 ha of flowery and tussocky field margin for insects and small mammals. The pollinators love the wild carrot and scabious. Some of these margins can be grazed off during the winter.
Trees and woodland
We are land sharers not sparers, but saying that we have just planted 7 ha of new woodland on the farm! These areas include shelter belts, hedge lines and grazeable blocks. We have also let 3 ha of rough pasture revert to a mosaic of scrub and open ground.
We hope to plant 1200 m of agroforestry lines in 2022 to provide shade, shelter, browse, fruit, nuts and woodchip. Watch this space!
In practice – not perfect
We are still learning and our system is far from perfect. It's one agro-ecological approach. Read about our challenges and questions for the future here: 

In Practice Not perfect.pdf
Motivations
I am from an old Dutch farming family (turning the soil in Yorkshire and Nottinghamshire since the early 17th century) and have a farm conservation background. From a young age, although I knew I wanted to farm, I also knew that I didn't want to be part of what I perceived to be a depletive industry. My main farm jobs in the 1980s were planting trees, digging ponds and moaning at my production-orientated dad and elder brother!
This early passion led to reading work by Jonathan Porritt and gaining a degree in Rural Resource Management from Seale Hayne before studying Environmental Management at postgraduate level in Sheffield. My first proper job was as an adviser with the Farming and Wildlife Advisory Group (FWAG) in Lincolnshire, working on the original Countryside Stewardship Scheme. Things go full circle it seems!
I have now been a farm tenant of the National Trust at Conygree for over 15 years, arriving in the Cotswolds and returning to my practical farming roots in 2004. Mel, who previously helped manage some of Norfolk's finest nature reserves with sheep, cattle and semi-feral ponies, moved to the Cotswolds in 2010, and now runs the farm with me and our young family.
If the farming life wasn't hectic enough I am also Head of Sustainable Agriculture at FarmED. Inspiring, connecting and promoting knowledge exchange is crucial to my regenerative mission. FarmED is an amazing place to be and work, and our impact is significant.
I was honoured to be awarded a Nuffield Farming Scholarship in 2015, part sponsored by the National Trust. I was lucky enough to travel around the world looking at how farmers like us can build a sustainable and regenerative business based on our natural capital. It was a wonderful year meeting heroes including Joel Salatin, Gary Zimmer, the team at Rodale Institute and Michael Ableman in North America; discovering the work of Wendell Berry; and exploring the limestone grasslands of Transylvania. My Nuffield report can be read here.
---
All images courtesy of Jonty & Mel Brunyee. All Rights Reserved