Agroecological farmers should CASH-in for promoting soil health
There is huge potential for farmers to be incentivised and rewarded for protecting and sequestering carbon in their soils. Government initiatives and carbon offsetting schemes in the private sector provide promising funding avenues for farmers who adopt agroecological practices that promote soil health and increase soil carbon. Yet there is a significant data gap as on-farm soil testing is not yet mandatory.
I am excited to be part of launching Soil Association's Carbon Assets for Soil Health (CASH) which aspires to create a UK-wide picture on soil carbon levels by collecting historic soil organic matter tests from progressive farms across the country and extrapolating trends. The hope is to be able to form a robust evidence base, supporting funding avenues for farmers who are farming in such a way that sequesters and safeguards carbon.
In the Royal Society's UK Greenhouse Gas Removal Report it was estimated that farming has the potential to sequester 1-10 Gt CO2 per annum. Soil Association Chief Executive, Helen Browning says, "soil carbon is one of the biggest opportunities land managers have to mitigate climate change, and we would like them to be paid for it." So in effect farmers that create healthy soils, improving soil resilience and yields, are also providing a 'public good' of sequestering carbon, mitigating the impacts of climate change.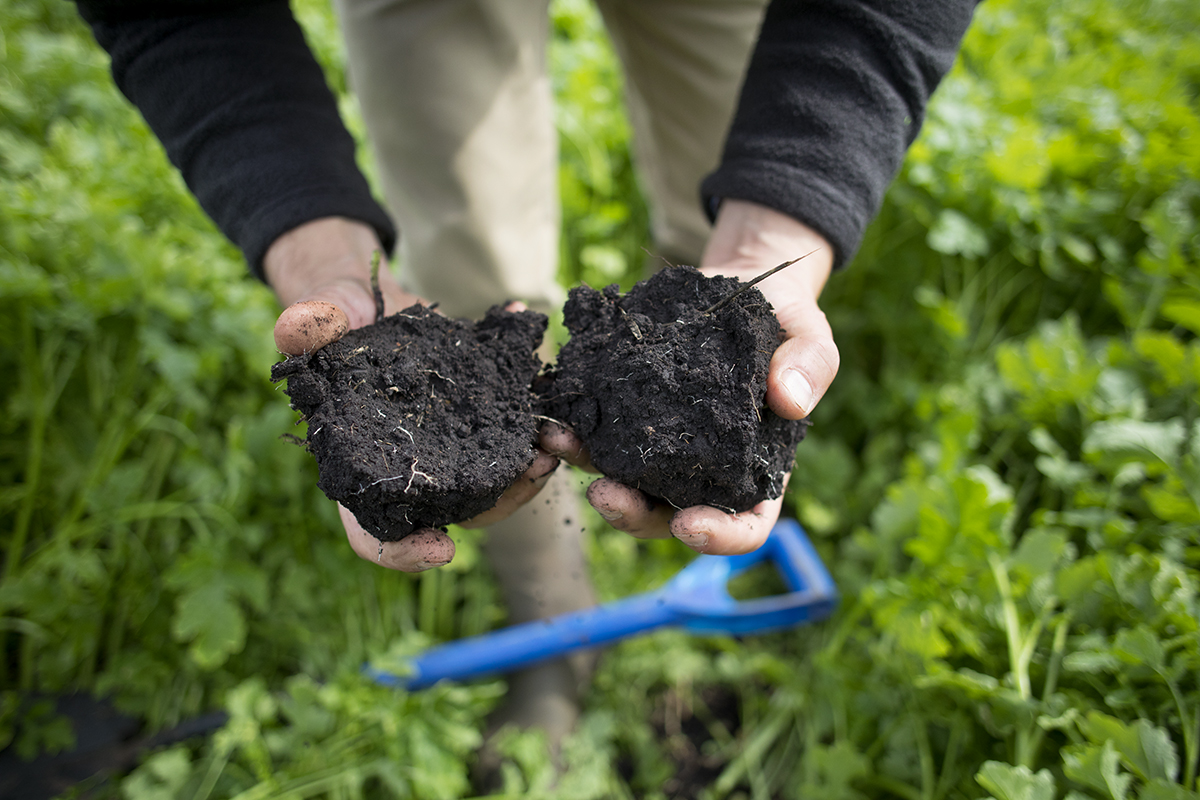 CASH is in its first phase casting the net out for these treasured soil organic matter (SOM) records. Interest is strong and why wouldn't it be? This is all about rewarding farmers who deserve to be. If you have been monitoring soil organic matter, and can also give details of cropping history, grazing/manuring practices and soil type, the Soil Association would love to hear from you. Our 5 minute survey will close in a few months and offers a prize draw of a case of Stroud Brewery organic beer or a bottle of finest Fleury organic champagne for five farmers.
Going forward the project will explore different methodologies of soil analysis working closely with farmers who are interested in trialling the latest innovations. Soil analysis may well transform over the next decade with an influx of apps and scanners that may assess soil characteristics in far more detail and far more quickly than traditional methods. If CASH is to be truly useful in its aim to incentivise farmers to track their soil carbon it will also need to stay abreast of this fast changing arena. Farmers need soil monitoring techniques that are reliable, quick, affordable and consistent.
Set to run over three years I am optimistic that this project is perfectly timed to help farmers leading the way on soil health through agroecological practices to CASH-in on the rewards they deserve.
Hugh Blogg writes of himself "I was inspired to work in the agricultural sector after a combination of volunteering on organic farms (WWOOF) and studying for a masters in Sustainability and Adaptation at The Centre for Alternative Technology. After a stint volunteering in the Soil Association Press Office and then working in Certification I joined the Producer Support team on research projects RELACS and Organic-Plus which investigate pathways to phasing out contentious inputs in organic agriculture. I particularly enjoy collaborating with farmers promoting farmer-led research in the form of blogs, papers and case studies. The social and environmental implications of the way we produce food has been at my core for a very long time. Recent achievements include writing a paper on phasing out copper in potato production and helping to run a micro mushroom farm, Fungusloci, growing oyster mushrooms on coffee waste. I was excited to help launch CASH, a research project looking at soil carbon and soil health. My hobbies include composting, growing in small spaces, culturing foods, growing mushrooms, badminton and going for fairly short walks."
All photos courtesy of the Soil Association, All Rights Reserved