Farmers go for Net Zero Arran
A group of farmers on the Isle of Arran, sometimes called 'Scotland in miniature' because of the range of farming it hosts, have begun to reduce their own carbon footprint to help create a blueprint for Scottish agriculture, and give themselves a commercial advantage in the process.
Farmers on Arran have begun working together to try and reduce the carbon footprint of the island, starting with their own greenhouse gas emissions. In what could be a blueprint for mainland farmers, they are using a tool to benchmark and measure the greenhouse gases they emit through farming – methane, carbon dioxide and nitrous oxide – and will then take action together to reduce those emissions.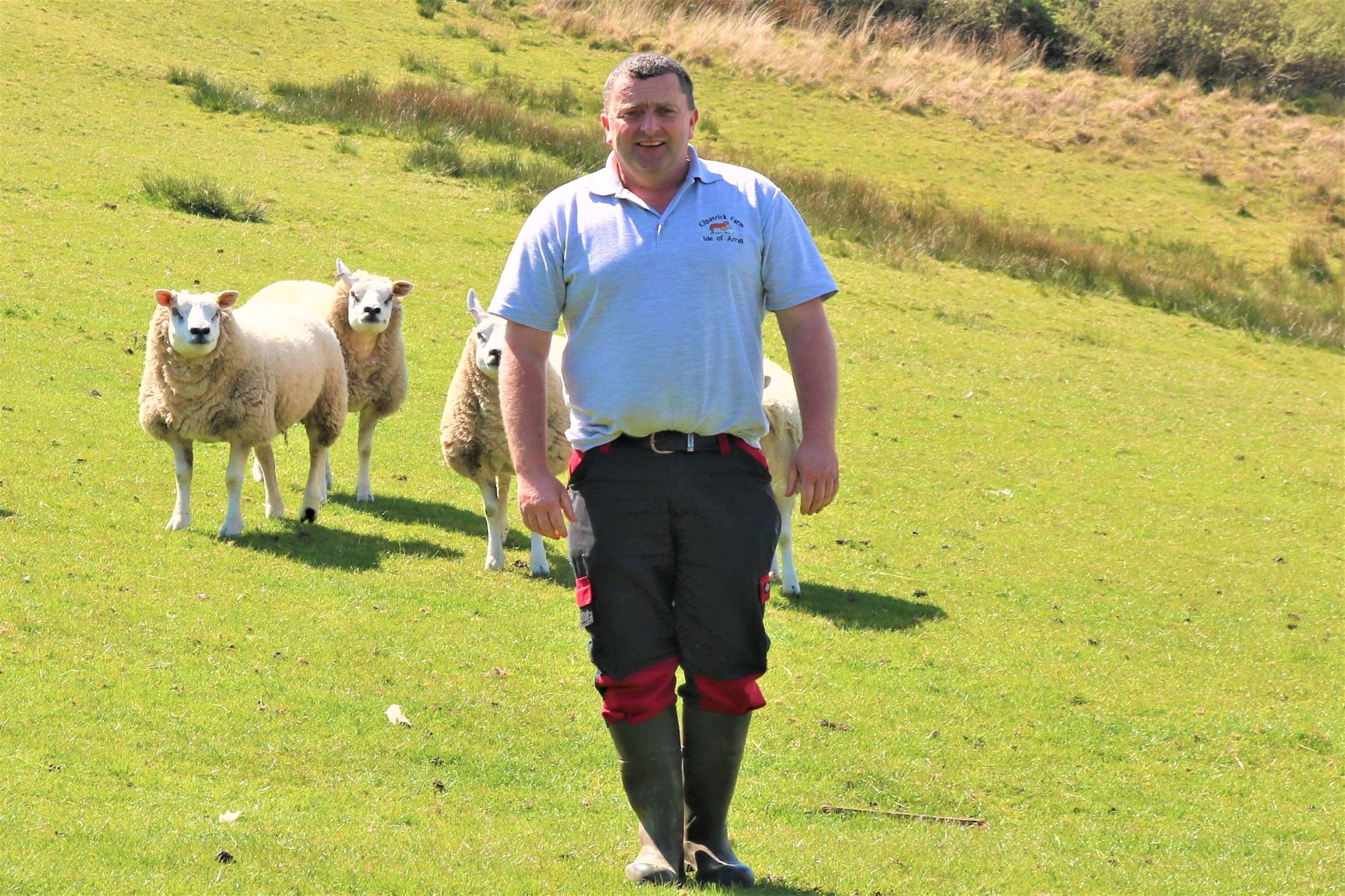 Beef and sheep farmer David Henderson of the Net Zero Arran group
The Soil Association Scotland-led Rural Innovation Support Service (RISS) group of 15 farmers and affiliates is facilitated by Alexander Pirie of SAC Consulting, part of Scotland's Rural College (SRUC). Pirie says: "My hope is we can reduce the carbon footprint of the island if we can quantify it and that by identifying common areas for improvement, we can take a collaborative approach. Farmers were already interested – SAC Consulting has 25 clients amongst the 50 or so farms on the island.
RISS has given me the scope to get everybody in the room
This is a broad project, building and expanding on data and processes from the Beef Efficiency Scheme (BES) and the Farming for a Better Climate Initiative and gives us scope to involve Taste of Arran or the local Eco Savvy, for example. We're also looking at the link between farm businesses, processors and retailers. RISS has given me the scope to get everybody in the room."
Although 'the room' is virtual for now, the farmers in the group are using SAC Consulting's AgreCalc tool to audit their emissions, as well as the carbon they are sequestering into the farmed landscape. They will feed this data back to Alexander Pirie, who will then help co-ordinate the actions the farmers can take to reduce their emissions. "Common areas for improvement are things like fertiliser applications, increasing lambing percentages, fertility MOTs for breeding potential and increasing biodiversity on farms," he says.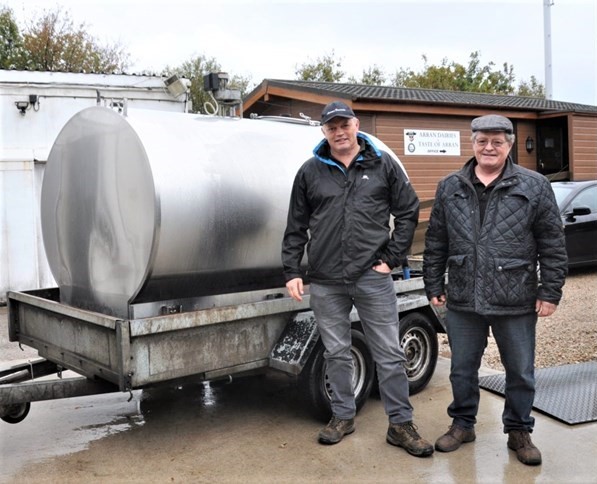 Net Zero Arran members Alastair Dobson (left), and Gordon Kinniburgh of Bellevue Cheese
Referencing our environmental credentials will give us a commercial advantage
Group member Alastair Dobson is managing director of Arran Dairies, which makes ice cream, and of Taste of Arran – a farming collective that markets local produce. He also farms beef and sheep at West Knowe farm. He says: "We need to start by benchmarking – if we know where we are now on a scale of 1-10 we can look at what we need to do to get to 10."
He says the RISS group will complement a circular economy initiative on the island by the Arran Economic Group, working with primary producers, manufacturers, and others to reduce waste and packaging.
"With Taste of Arran we have been reducing food miles for 20 years – for example consolidating loads in and out," he says, "and we're keen to extend our environmental credentials even further. It's a huge opportunity for the food and drink sector, even more so during this current crisis. If we can transparently reference our environmental credentials it will give us an advantage nationally and internationally.
The question is, how do we adapt?
"Farming globally is being held up as having poor environmental credentials and we don't deserve to be painted with that brush – we have mixed landscapes in Scotland that benefit greatly from land management, most of which is done by farmers."
David Henderson farms beef and sheep at Kilpatrick Farm on Arran. He said: "I have done our carbon audits and our emissions were good partly due to our stocking rates. But I'm in the group to learn. We know that future farm programmes will be based around carbon footprints, whether we like it or not, so the question is, how do we adapt? Farmers need to work together more and be more open about the good and the bad."
Would you like to be part of a group like this?
Join David Henderson and Alexander Pirie at the online workshop 'Future proof your Farm' on May 20. Click here to register.
The RISS connects farmers and land managers with the right people and helps them develop a viable, innovative project. Part of the Scottish Rural Network and funded through the Scottish Regional Development Programme, it is led by Soil Association Scotland, in partnership with Scotland's Agricultural Organisation Society (SAOS), SAC Consulting (part of Scotland's Rural College), Scotland Food and Drink, and the Innovative Farmers network.

Megan Welford writes of herself: "As Communications and Public Affairs Manager for Farming and Land Use at Soil Association Scotland, I spend my time talking to farmers and growers and sharing the ways they are helping to restore climate, nature and health. The Rural Innovation Support Service that Soil Association Scotland leads on is a mine of great stories of farmers working together, and with others, in new ways. As a former journalist and enduringly nosey person, I like nothing better than being able to ring people up and ask them a load of questions. And it's an honour to do that for an organisation that is trying to make the world a better place."
All images courtesy of Soil Association Scotland, All Rights Reserved. Header image credit: Rhiannon Bull, Soil Association Scotland