Harmony in the Future of Food and Farming
At such a crucial time for the future of British food and farming, the Sustainable Food Trust (SFT) held a conference earlier this year to discuss ways in which principles of harmony, as outlined by HRH the Prince of Wales in his book Harmony: A New Way of Looking at Our World, manifest in food, agriculture and other spheres including the environment, education, health and music.
Keynote speakers at the event, including HRH the Prince of Wales, conductor Sir John Eliot Gardiner, Dame Ellen MacArthur, writer and campaigner Tony Juniper and leading head teacher Richard Dunne, discussed a number of important and challenging issues, including the circular economy; natural capital and a 'crisis of perception'; the disconnect between producer and consumer; climate change; and the importance of education. A range of parallel sessions followed, in which thought-provoking topics including ethical slaughter, local food systems, diets and health, the economy, science and spirituality, farm ecosystems, farm architecture and education were discussed.
Of particular interest to Agricology, whose inspiring convergence of leaders in the agricultural and horticultural fields supports an integrated approach to farming, are two Harmony sessions, each of which shed light on the impacts of the current predominant models of farming, as well as the ways in which farms can be managed as healthy life-sustaining systems…
Farming in Harmony with Nature
Led by Professor Dr. Hartmut Vogtmann, 'Farming in Harmony with Nature' explored how biodiversity can be reintegrated into farming systems. Mike Clarke of the RSPB described the increasing intensification of agriculture and the fact that we are reaching the limits of planetary boundaries, asking how business, government and civil society can work together in order to manage what he called "planetary coupling" – the effects people have upon natural systems. Building upon this, Justin Adams of the Nature Conservancy described the historic tendency of his conservation organisation to work in isolation, disconnected from the work of similar organisations, and the need to evolve approaches to think about "the whole food system, the landscape and people." The Conservancy now focus on soil health in the United States, introducing for example, diverse crop rotations within the industrial agricultural complex, as well as upscaling agroforestry reforestation schemes in the Amazon.
From a British farm perspective, Ian Boyd argued the importance of healthy soil and biodiversity management, presenting his own farm, Whittington Farm Lodge, as an illustration. There he practices 'mob-grazing', the benefits of which he believes to include the flowering of wild flowers that have attracted a variety of wildlife including many butterfly species, as well as short-tailed field voles, which in turn support the existence of barn owls. Insects also allow bird species to flourish, whilst hare and deer have found sanctuary in the fields.
The importance of integrating nature into farming is part of a growing global discussion, and as Agricology rightly points out (in their 'About Us' video), "cutting back on inports, working our soil and pollinators to mutual benefit and maintaining a commercial operation is a challenge" yet it is incredibly necessary. Ian argued in response to this challenge, that the power of the consumer should not be underestimated, and that by putting nature first it is still possible to run a commercial farm enterprise, through inventive new approaches to generating farm income, and a change in mind-set – both for producers and consumers. Echoing this sentiment, Rebecca Hosking of Village Farm in South Devon explained that although sheep are her main commodity, they are only one aspect of the farm, and form part of its entire ecosystem. Applying this approach to the farm means that she has found that problems with pests, weeds and vermin are counteracted by having a variety of "species across the way."
The Farm as an Ecosystem
During the session on 'The Farm as an Ecosystem', Ian Wilkinson of Cotswold Seeds described the far-reaching effects of the evolving ecosystem at his farm, Honeydale, which began as a monocrop spring barely farm, producing marginal crops that were not making financial profit. In light of this, Ian decided to invest in the soil using a conventional lay farming system, to "grow their own fertility" and biodiversity with deep rooting grasses, clovers and herbs. Ian grows oats, under-sown with an intercrop such as clover, to fix the nitrogen and build soil fertility; simultaneously a food source for the sheep and a weed suppressant. He also keeps honey bees and has tried to involve the local community where possible – planting and eventually harvesting a "living library" of over 200 varieties of Oxfordshire apple trees. Despite the usage of machinery and grid-like, patchwork layout, Ian's farm offers one possible "farm of the future"; a diverse and ecologically considerate, thriving ecosystem.
The importance of soil was confirmed by John Meadley of the Pasture Fed Livestock Association, who offered a global perspective on the matter, describing pasture as the UK's "largest solar panel," taking carbon out of the atmosphere, generating soil organic matter and holding vast amounts of rainwater. The benefits of pasture also include its provision of a natural diet for ruminants and as a welcoming home for animal manure, as well as the biodiversity benefits in terms of rooting depth, symbiotic relationships, pollination and the health of animals.
Soil Association Chief Executive, Helen Browning, described the way in which we may be thinking of our farms as "ecosystems within a flawed world," criticising the global system within which even the most well-intentioned farms are located, adding, "no farm is an island, and nor should it be." In order to secure our biodiversity, we need to be connecting up our landscapes in order to allow genetic flow-through and management at a catchment level. Helen further argued that the only way in which farmers are going to be able to survive in the future is by linking together, sharing machinery, labour or marketing; "improving the ecosystem through thinking beyond their farm gate."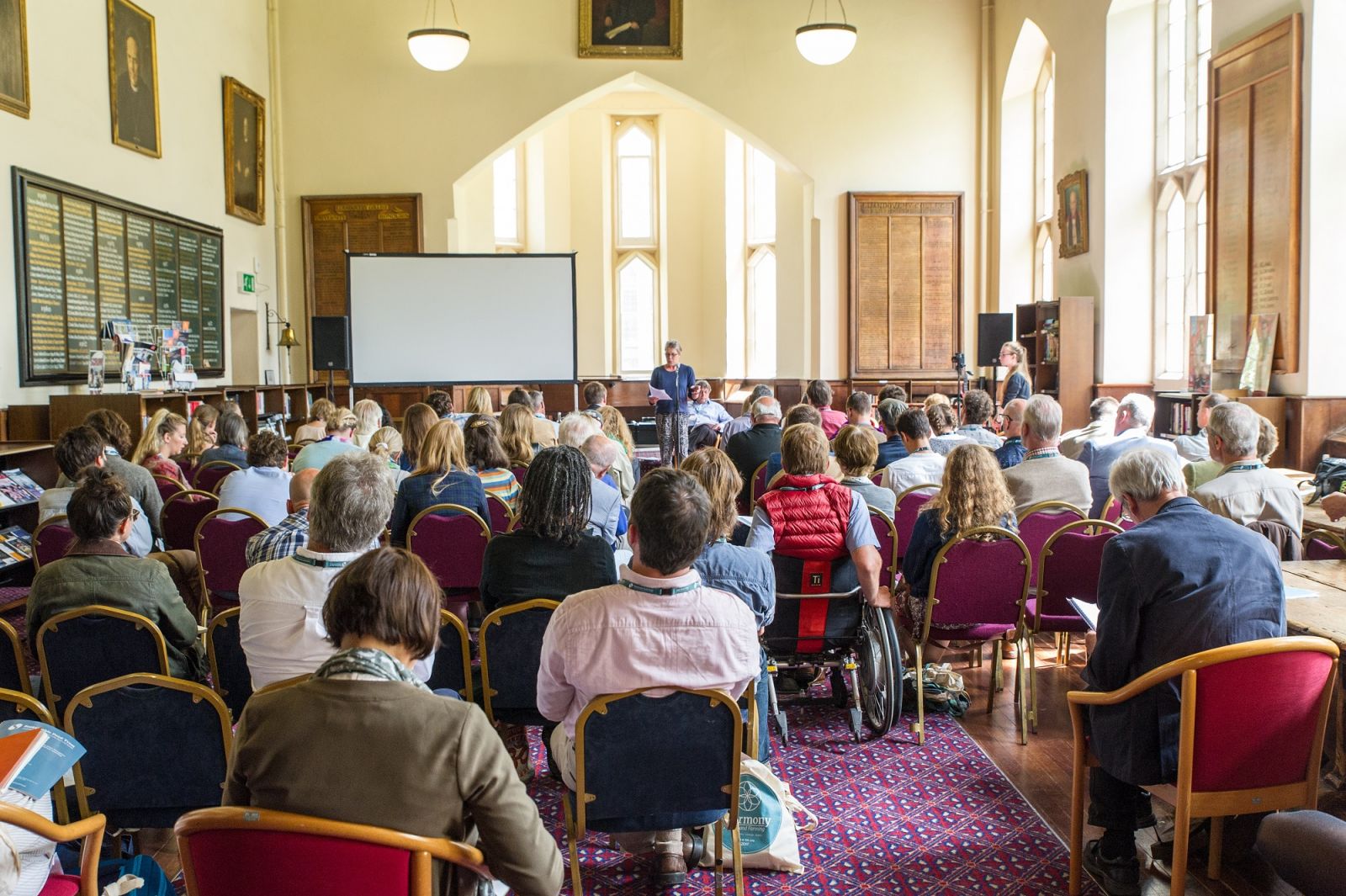 Some of the most memorable questions during the session were posed by Helen, who asked whether it is in fact our addiction and obsession with farming that needs to end? Is it, she asked, actually about the ecosystem becoming the farm? Do we need to start thinking about how we can harvest nature, rather than constantly subjecting nature to how we want it to be…?
With so much talk of nature and biodiversity, it was interesting to hear Richard Young of the SFT discuss the significance of humans in relation to the negative environmental consequences of overpopulation and industrialised agricultural systems. Education, he argued is key, as is the wealth of academic research working to ascribe monetary costs to the negative externalities of farming, such as the SFTs 'Hidden Cost of UK Food' report, to be published on the 21st November 2017.
A Call to Action
In summation of what was a truly inspiring few days, HRH The Prince of Wales' opening sentiments seem appropriate. Despite suffering the deep-rooted consequences of an immense separation between humans and nature, "there is no technical reason why farms cannot become more diverse, nor why they cannot care more for the soil they depend upon; nor why farm animals can't be treated more humanely." There is also no reason why "the vital connection between the food producer and the food consumer can't also be restored."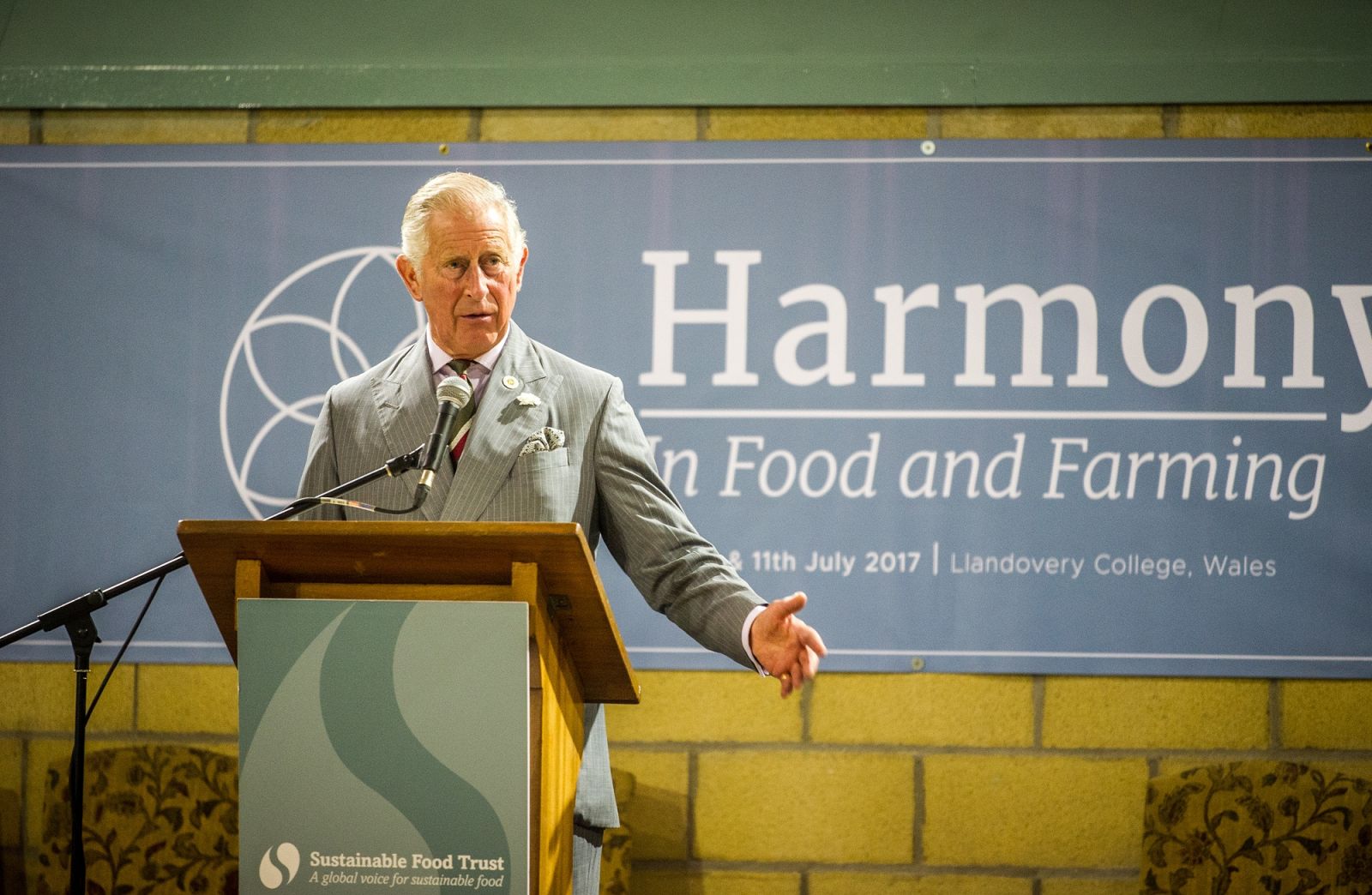 In light of the Prince's passion for change, the conference was a sure-fired 'call to action', and bolstered both excitement and enthusiasm amongst participants. On a personal note, the conference has renewed and reinvigorated my own passionate commitment to spend the rest of my life striving to build more systemic, sustainable and harmonious connections between all the different spheres of human activity. I am pleased to say that this feeling was shared by environmental advocate and founder of Greenopia, Gay Browne, who expressed the connectedness she felt with other attendees who shared her environmental philosophy: "I had never felt more in harmony and at peace with myself and the planet as when I left the magical land of Wales with a heart full of the new friends I made who share my philosophy on personal environmental health and are prepared to do something about it."
The interactions between participants during panel discussions, or whilst sitting around the dining table, were permeated with passion and creativity; exchanges of a catalytic nature which I hope will in turn inspire many to act in favour of an integrated approach to farming and nature.
Patrick Holden writes of himself:
"After studying biodynamic agriculture at Emerson College, I established a mixed community farm in Wales in 1973, producing at various times wheat for flour production sold locally, carrots, and milk from an 85 cow Ayrshire dairy herd, now made into a single farm cheddar style cheese. I was the founding chairman of British Organic Farmers in 1982, before joining the Soil Association, where I worked for nearly 20 years, and during which time the organisation led the development of organic standards and the market for organic foods. I am now the Founding Director and Chief Executive of the Sustainable Food Trust, where we work to accelerate the transition to more sustainable food and farming systems that nourish the health of both people and planet."
All photo credits: Steph French