Soil, light and 3D farming
Light is a critical factor for photosynthesis and therefore crop growth. The soil also has a key role to play and a healthy, fertile soil containing a wide range of minerals which "turbocharge photosynthesis."
Increases in soil organic carbon can help improve crop yields. Ways of capturing carbon in your soil is the topic of the most recent 'Know Your Soils' post from the Soilmentor team, one of a twelve part series of practical tips for monitoring soil health and simple tests you can do on your land. This one highlights different tests you can do to monitor increasing carbon in the soil and gives some tips on how to make a carbon farm plan.
Soils structure is of course integral to soil health and therefore crop growth. Niels Corfield digs down into the detail of assessing soil structure, its state of health, how it particularly relates to the ability of soil to both absorb and filter water and how all this can help inform your soil management decisions in the first part of his featured blog 'Making your soil rain-ready  (part 1): Skywatchers, it's time to look down'. Look out for the second part 'Time to look ahead' which will be featured on Agricology later this month.
Mixing annual and perennial crops can make for a more resilient system, particularly in the light of extreme weather conditions. Stephen Briggs says in his farm profile "If you want to increase farm production consider the space 2 metres above and 1 metre below the surface. Agroforestry offers an opportunity to utilise this space." Jonty Brunyee concurs with this in his featured blog in which he reflects on a European agroforestry conference he recently attended which gave him "a fresh vision for Conygree Farm." He says "I now realise that agroforestry is the missing element. I have focused on the horizontal and totally ignored the benefits of 3D farming." He touches on many of these benefits in his blog, which includes highlighting the potential of diverse cropping systems in his description of a food forest project which aims to showcase alternative farming practices and food forest systems and to share experiences of temperate climate agroforestry. "Year one planting was near complete and the first fruit and vegetable harvest was starting. By harvesting solar energy, building soil carbon and working with ecological diversity, this one hectare plot should yield over £30,000 of fresh produce each year."
You can now access information on the European AGFORWARD project on Agricology. The project has produced a great series of leaflets that provide valuable practical guidance to farmers on how to plan, create and manage an agroforestry system. The 'best practice' leaflets provide guidance on all the things you might need to consider such as selecting a site, tree species and planting material, planning the layout and spacing of trees, tree protection, land preparation, tree planting, and tree pruning and management.
'Agroforestry Innovation Leaflets' are another output from the project, with a few particularly relevant to the UK. 'Trees and crops: making the most of the space' focuses on managing the often underutilised understorey of trees which can be put to productive use through growing additional crops that are adapted to shady conditions, and looks at different understorey crop options, focusing particularly on trials carried out by grower Iain Tolhurst in his horticultural agroforestry system. 15% of total vegetable cropping land was lost to plant the new agroforestry system trees on Iain's farm. Growing additional crops in the tree understorey helps lessen this impact, making more efficient use of all available land and hopefully ultimately increasing the overall productivity of the farm.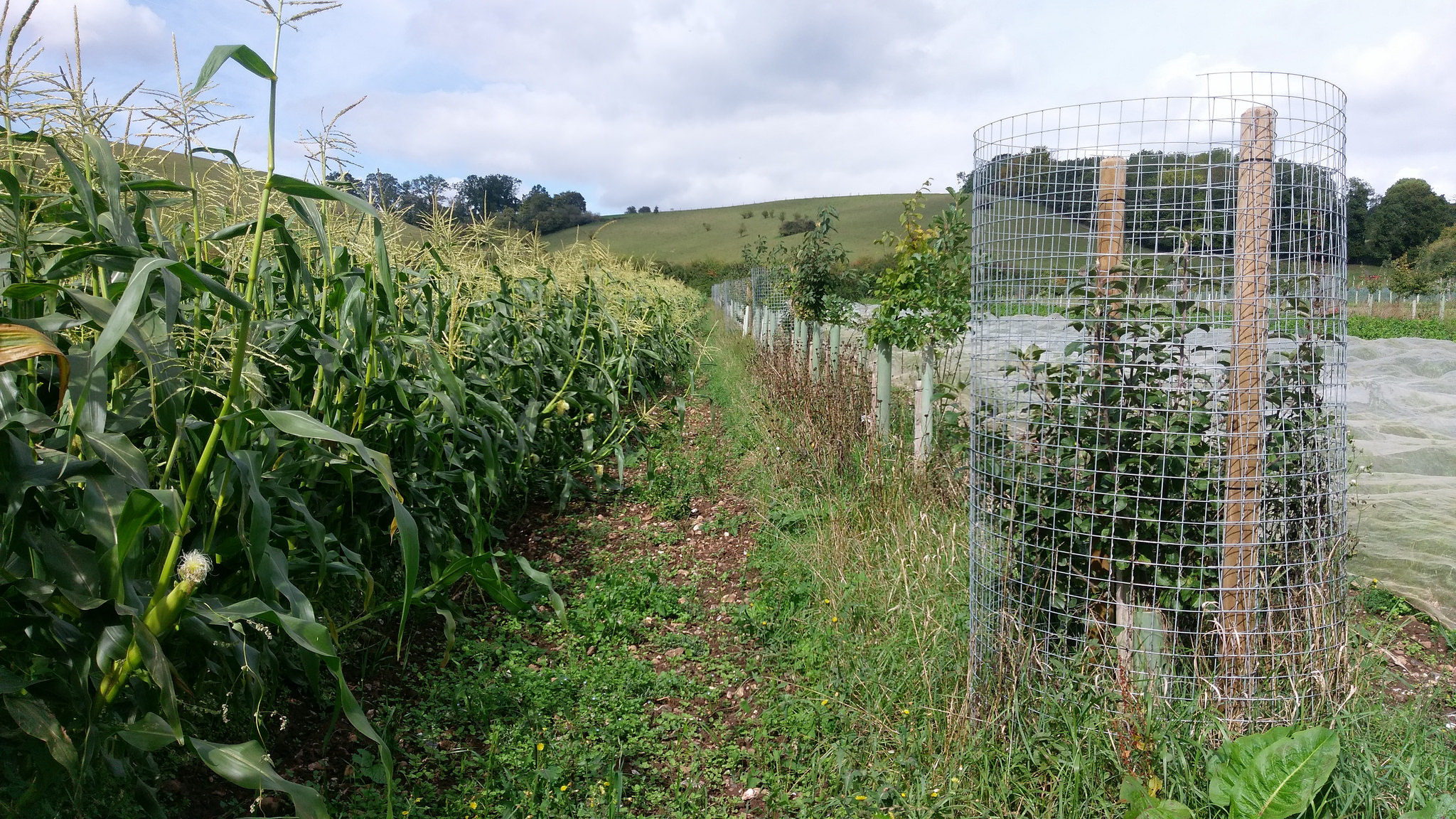 There are of course many other ways to create diverse cropping systems, such as intercropping and companion cropping. In a presentation farmer Andrew Howard gave at an OK-Net Arable intercropping event in 2017 'Is intercropping the way forward for arable?' he touches on many different aspects and says "A big 'take home' message is that intercropping and companion cropping can potentially reduce off-farm inputs and produce up to 30% more crop yield." This can be achieved through making the most effective use of resources; water, nutrient and solar energy. This can be especially true when legumes are planted with other crops, which has been one of the topics of study at the Royal Agricultural University. One study that focused on bi-cropping spring field beans and wheat, showed that light and chlorophyll were used more effectively in a bi-crop mixture (particularly alternate rows of bi-cropping) than a sole wheat crop. 'When compared to mono-cropping, bi-cropping can help you maximise on the use of natural resources such as light, water, and nutrients, whilst also boosting forage dry matter and nutritional values.'
This month website content will focus on market outlets, community supported farming and seed saving. Please join in the conversation! Use Facebook, Instagram, YouTube, Twitter (@agricology) or the Comments feature below, or you can contact us on enquiries@agricology.co.uk.
Janie Caldbeck is the Content Editor for Agricology
---
Header image: Wheat-Bean intercrop: A design of polyculture planting, where two crops are planted in alternate rows. Here, fava bean ('Fuego') grows between ORC-Wakelyns Population spring wheat. Photo credit: Tegan Gilmore (ORC). Tolhurst Organics image courtesy of AGFORWARD project (CC BY-NC-SA 2.0)