We're a 450-acre farm in Screveton looking down on the Vale of Belvoir, east of the Trent Valley. The farm has been in the family since 1933 and is still a family business currently run by myself, third generation farmer David Rose. My grandfather came to our farm in 1933 – it was then a 90-acre small mixed farm, with arable and milking cows, and we would pick fruit from local trees to sell in the market. We gradually expanded and at 200 acres I realised we were going to struggle to create a profitable way of farming. I managed to persuade some other local farmers to join us on what was by then an all-arable farm. I found myself questioning our intensive way of farming and began looking for alternative approaches. I looked to diversify the business, including a mixed enterprise with cereals and sheep, and the creation of an edible woodland for the local community.
On the back of being involved with LEAF, Sustain and CPRE, and through my Nuffield Farming Scholarship, I was really interested in the whole aspect of environmental management of the farm and involving local communities, schools etc. We now farm using minimum tillage, direct drilling, reducing pesticides, and follow the LEAF model. I have realised that big or small, the margins aren't really going to be that different, and if you're not enjoying what you're doing, you may as well not be farming. Our environmentally sustainable farming practices, with less dependency on chemical pesticides and fertilisers, and an emphasis on soil health and care, mean that the farm is more wildlife friendly. Our mixed farming system creates a diverse base for wildlife, and the RSPB and FWAG have monitored increasing numbers of birds and animals.
The farm is now a hub for lots of different partnerships and enterprises – arable, agroforestry, native breeds of about 150 sheep which includes some heritage Hebridean sheep looked after by a shepherdess, and a small number of English Longhorn cattle, and we adopt high standards of environmental practice and animal welfare.
Our arable enterprise is a joint venture with a neighbouring farmer and 2 young sons. They help with the arable crops – wheat, barley, beans…We supply wheat for flour for the Small Food Bakery. Our sheep enterprise is a joint venture with a young guy who wants to set up in farming (and helps with lambing). We also have a cycling café and fitness gym. They all make use of the farm – there is a 3.5-mile farm walk the gym and café use…
So we have a farm but we also have a community enterprise business as well where we rent some of the land to a group of people within the community who have set up their own business – FarmEco Community Care. It is a very active farm with lots of people involved, sharing ideas. Generally, it's about looking back at the old systems and using modern technology and innovation to make those systems work.
I set up FarmEco to educate and inform people about the working countryside and to reconnect people to the land and the environment. It acts as an opportunity for people to interact with rural farming life, understand more about sustainable food production, and work together to widen food and farming partnerships, and enables the delivery of practical land-based activities that aim to significantly improve the lives of individuals and local communities. Engagement includes the development of skills in growing, processing and selling farm produce, and monitoring biodiversity. It enables people of all ages from local rural and inner-city communities, from all sectors of society and with differing needs and abilities, to benefit from improvements in their physical health and mental wellbeing. It also seeks to influence behavioural change as people develop a greater understanding and appreciation of rural life, the environment and agroforestry. We hope to form part of a network of community owned and run farms, facilitating exchange visits and eco-tourism.
I am a Woodland Trust Ambassador and host agroforestry research on the farm – there are two main trial areas on the farm; silvoarable – apple trees and elderflower etc within a block of arable land, and silvopastoral – sheep grazing within an edible woodland area.
James Thompson, Environmental Scientist and Conservation Manager, has been involved with FarmEco since 2020, supporting the strategic and sustainable development and conservation plans for the farm and is heavily involved with the agroforestry. After 26 years in retail, James took the decision to do something more worthwhile. He has always had a passion for the environment and began an Environmental Science degree (part time) in January 2019 with the aim of being involved in environmental programmes that make a difference by supporting the community, environment, whilst making economic sense.
Agroforestry
Agroforestry adds value to the farm in many different ways – being part of our 'enterprise stacking' (the sum of all the smaller elements), is important, but at the same time, and equally important, is looking at it from an environmental stewardship and a community point of view (our mission at FarmEco is to reconnect people to land and the environment) – all three elements are very important.
In addition to the trial agroforestry areas, the farm had already established woodland and hedgerows, utilising marginal land.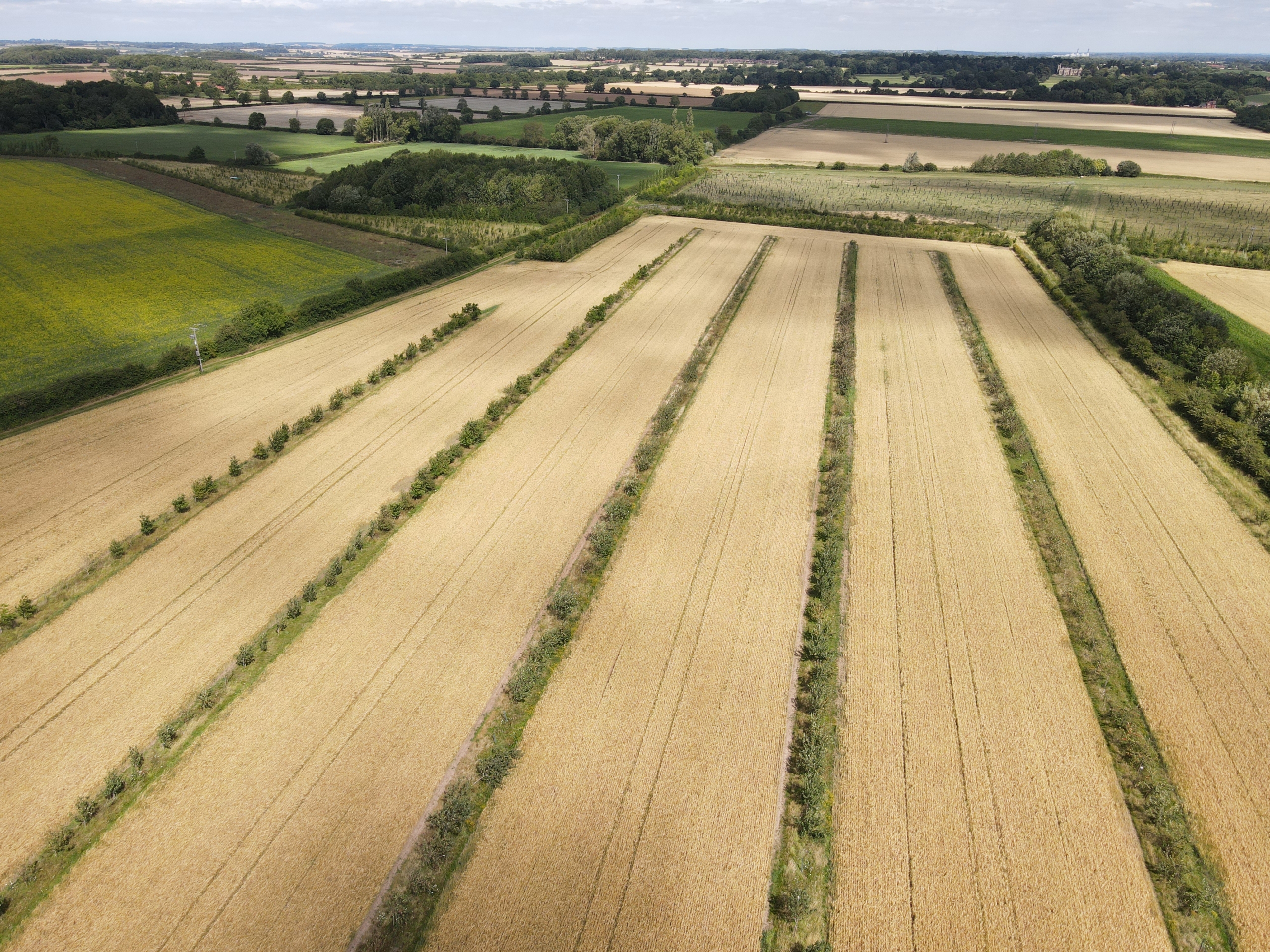 Part of an arable farm is utilising the agro-environment as well as you can, and we decided areas like corners of fields were being unproductive, so when we looked at the whole woodland creation plan we wanted to carry out, we decided we'd take a lot of the corners and less productive areas out and try and create corridors that insects and animals could migrate around.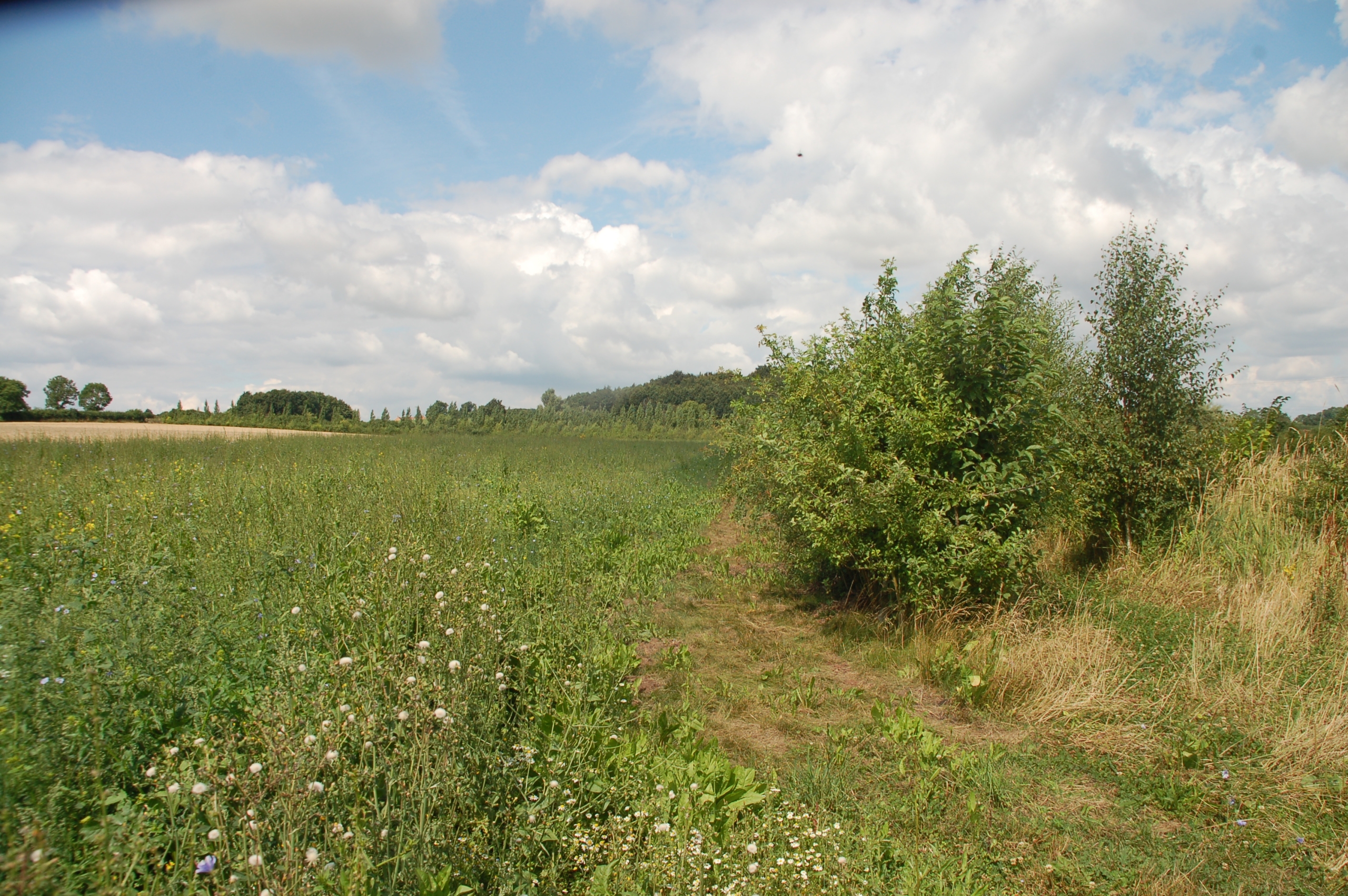 We planted the trees either straight into the grass or into arable or wildflower mixes. We have also planted trees into canary grass – this provides great cover for birds (in one of our best partridge drives) as well. Because we're not growing for the biomass in these areas, the fact that trees haven't grown as much isn't quite as important – the biodiversity is increasing. We have a 30-acre wildbird cover mix (see below) which includes kale, quinoa, and chicory), which not just benefits partridges and pheasants, but all kinds of other wildlife too, and lasts for 3 years.
We also host a 'Tiny Forest' inspired by growth techniques of botanists Akira Miyawaki and Ernst Gotsch which consists of about 400 trees relatively native to Nottinghamshire (rowan, oaks, etc) grown in 200m2. The technique is supposed to give a kick start for trees – the idea is they complement each other for the first 2 years, by year 5 -10 the stronger trees will grow (and you have a forest that would normally take 20 years to produce), and in 50 years' time you'll be left with a couple of really strong trees. The principle is to make use of everything on your farm – getting the right levels of wool, straw, topsoil, coffee grinds etc. is crucial.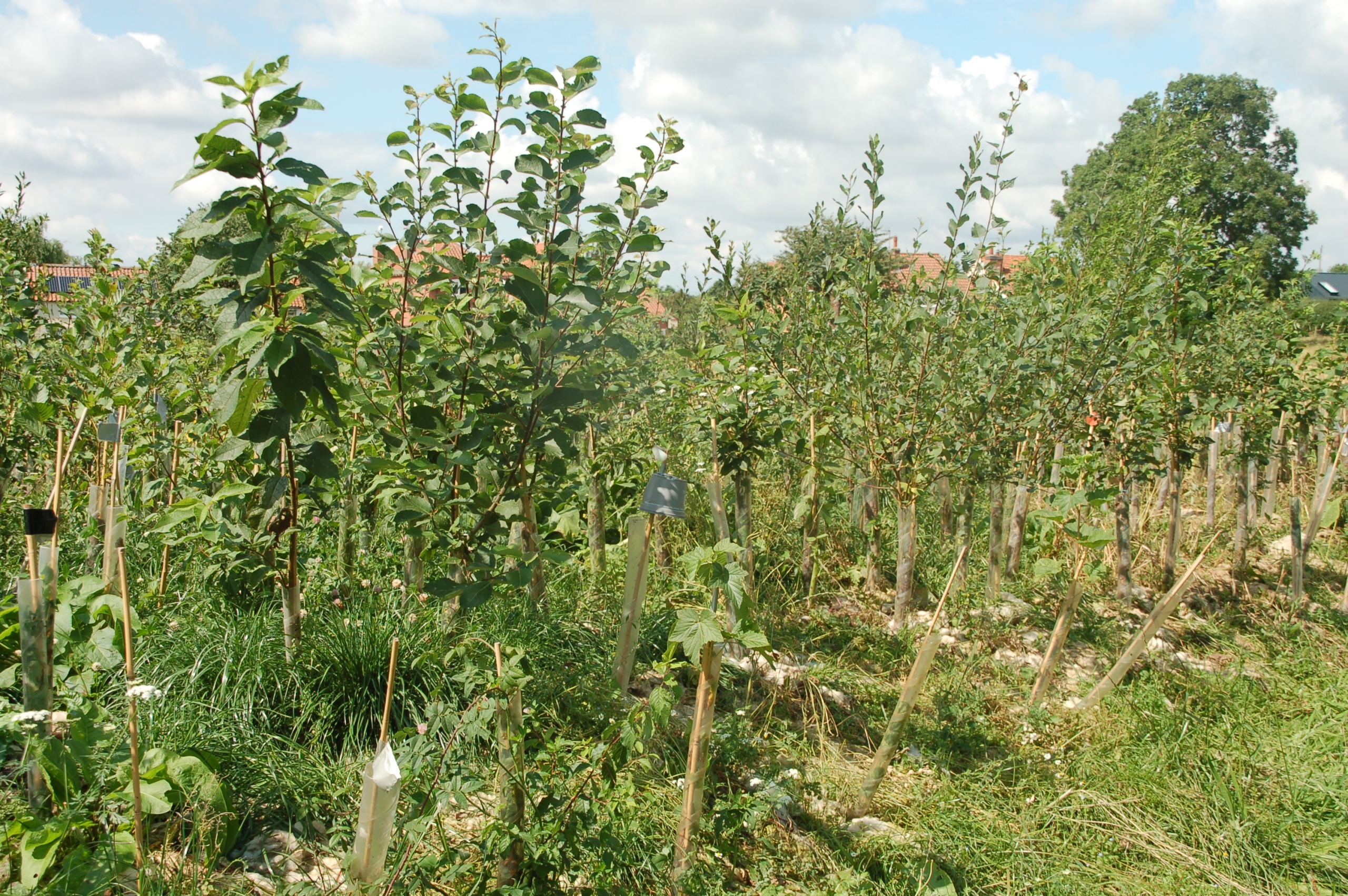 About 4,500 fruit and nut trees and 60 different varieties were originally planted in the agroforestry trial areas described below (with some varieties having more difficult challenges than others!)…
Silvoarable (with fruit & nuts)
We have 2 fields of 15 acres – one planted with agroforestry; about 740 trees and a wheat or bean crop between rows, the other monoculture control field just with wheat. They were planted in 2014 with beat up (any failed trees replaced) in 2016.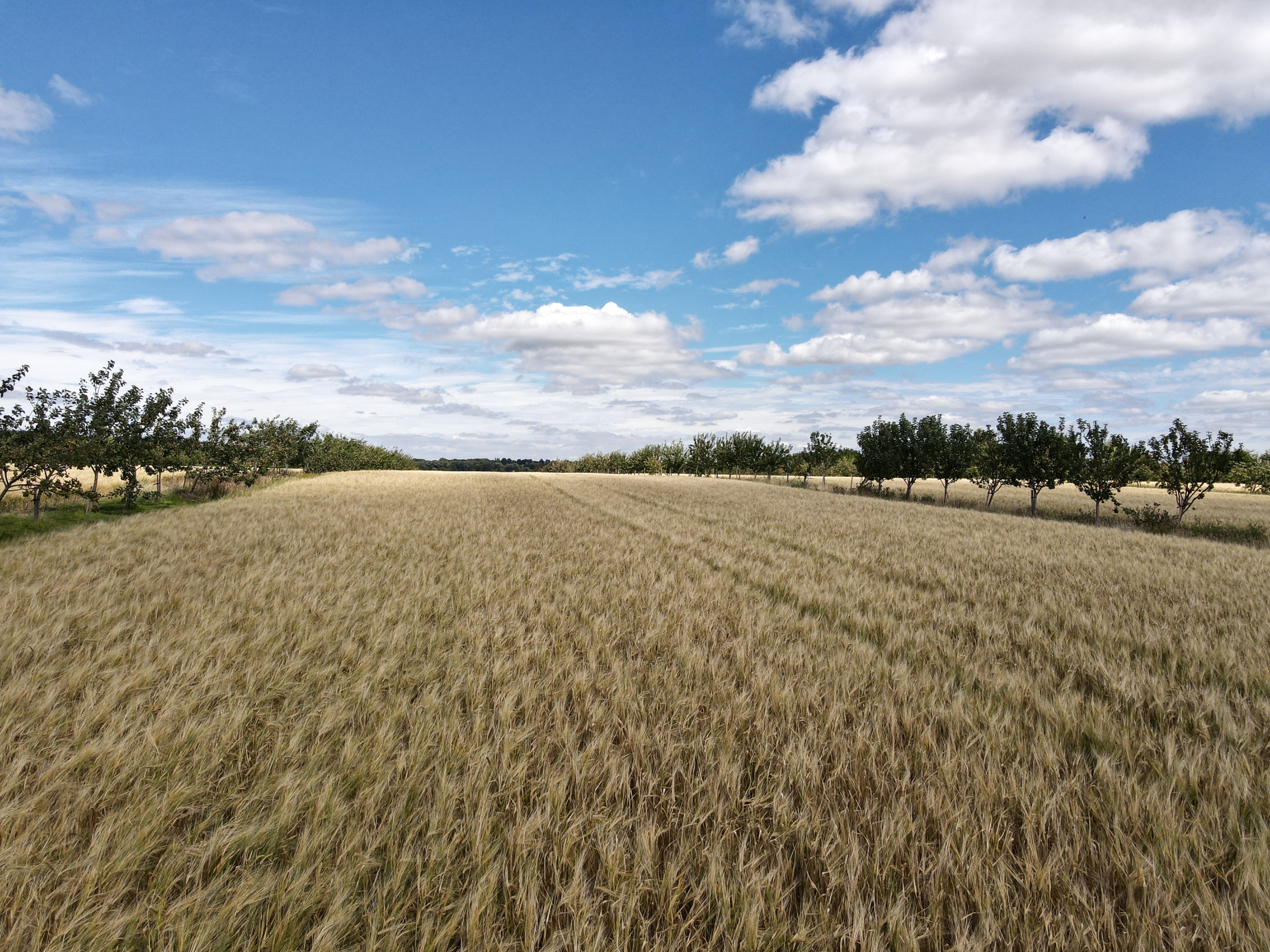 System layout & crop species
The agroforestry consists of 5 different alleyways of trees every 27m. After every 24m of arable crop, there is 3m of wildflowers, grasses, then a row of trees. The tree rows are about 230m long, and about 3m wide, with the 24 metres inbetween them allowing for turning circles of the machinery. The trees are predominantly apples, there are also walnuts and sweet chestnuts. We have 20 different varieties – heritage apples (such as James Grieve), elderflower, and different fruit and nuts on the final row.
Management
There are three key time of the year; typically winter is all hands to the deck, with maintenance including manual tree pruning, summer is more general tree care and getting ready for the harvest, and September is the key harvest and production season (we harvest by hand). The 24m of arable crop allows for the width of the sprayer and fertiliser spreader (our combine header is 6m wide).
Challenges
We do get a lot of wind coming through and have had problems with wind damage. We severely pruned the trees last year (2021) – so they will hopefully be shorter and more robust. Our biggest challenge is on a volunteer basis – making sure the trees are in good health and in good condition, and the second is not using pesticides – some varieties of apples get blackspot. We have learnt it is best to keep it simple!
Monitoring & long-term plans
We are monitoring over a 20-year period to look at economic, environmental and social benefits of the 2 fields and how they compare and help give evidence to other farmers. Research being carried out is looking at how agroforestry can help farmers diversify and use trees as a way of helping with their economic and environmental return (improving habitats) and social return – getting more people out on to the farm. We are comparing the return we get from yields and monitoring environmental and social benefits. We are also going to measure differences in yield of wheat crops.
The trees take out 1 acre of land – in 1 acre of wheat we can usually grow about 3 tonnes of wheat – £150 a tonne. We rely on subsidy payment to give us a margin that allows us to make money out of the field. We could probably make about £50 – £80 an acre out of each of the arable fields – so the trees have to produce about £80 worth of apples. We are looking also to add value with cider and cider vinegar for a lovely bread maker – the Real Bread Company. We have lots of volunteers who help with the pruning etc. which is good for the social element.
The environmental impact of agroforestry – wind speeds, soil temperatures and rainfalls, have been measured (by the Organic Research Centre) in both fields to monitor differences. Tom Staton* from Reading University has been monitoring some of the insect life. He has been comparing the 'good' and 'bad' insects in the two fields; some insects can help with IPM and improve crop yield and quality. Over the last 2 years, a much higher diversity of insects has been found in the agroforestry than the arable (we have found that slugs can be more of a problem with the trees). We want to understand now why agroforestry is good for insect diversity – we know there is a great diversity of flowers below the apple trees – if that is removed, what effect does it have and is agroforestry still so good if it is mowed regularly? We also aim to compare cut with uncut flowery strips – with a view to helping reduce the amount of chemicals needed to put on the crop.
* View Tom's PhD thesis summary here PhD thesis summary.pdf – in it he says "This project provides evidence that agroforestry farming practices, when appropriately managed, can restore farmland biodiversity and improve agricultural sustainability with comparable productivity to conventional crop production, albeit with a different set of challenges."
Silvopastoral (edible woodland)
We decided to plant about 6.8 hectares (16.8 acres) of edible woodland on arable land, growing trees and grass at the same time (see area behind the silvoarable). The woodland was planted in 2 different growing years – 2017-18 on one side, 2018-19 on the other, and in total 2,496 fruit and nut trees and shrubs have been planted. The project has been supported by the local community, for example by volunteers planting trees. The idea is that the woodland becomes a community resource, offering volunteers the chance to plant, tend and harvest the crops as well as have a say in how they should be used, or where they could be sold.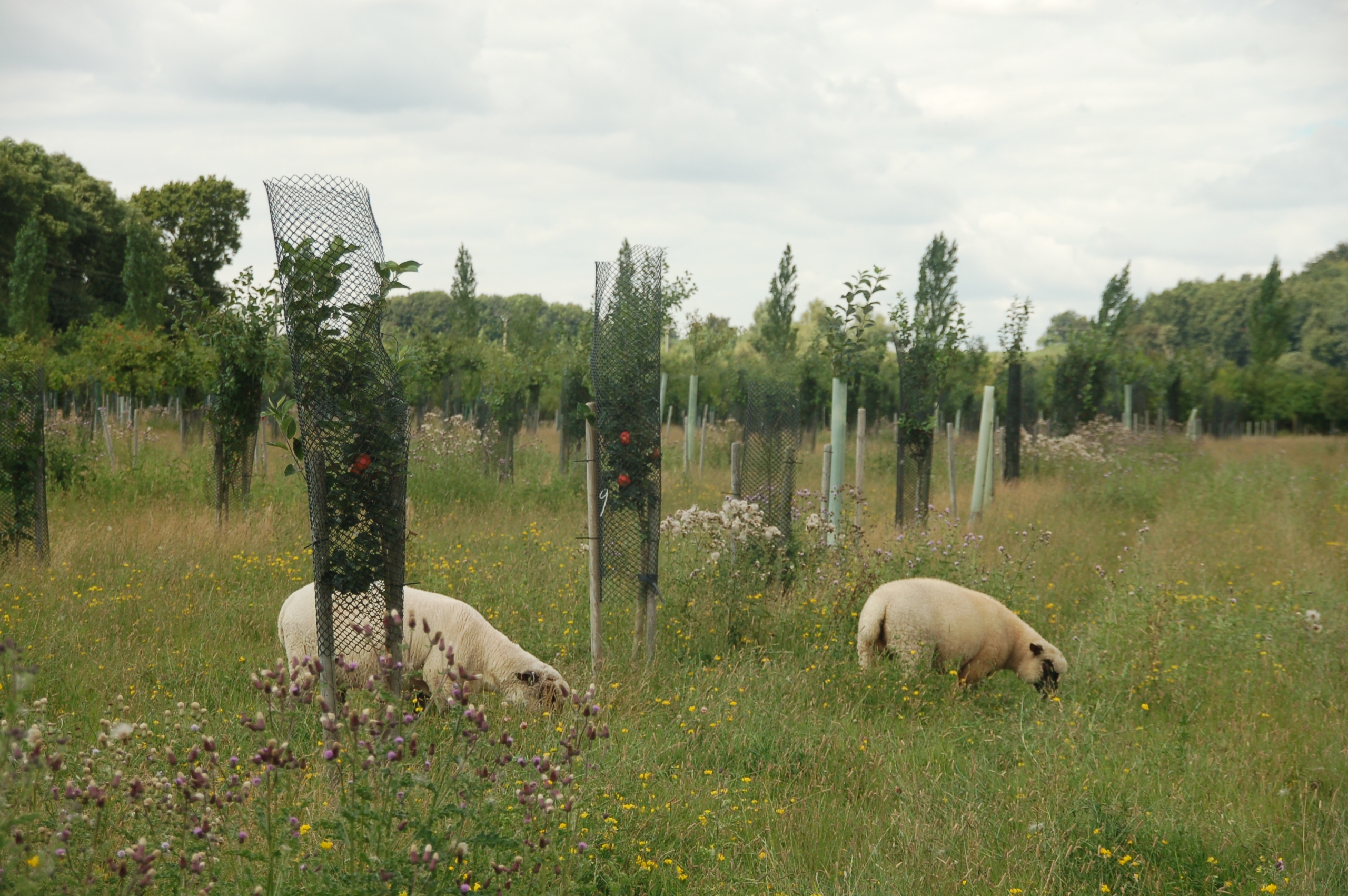 Within the woodland we have about 150 sheep pedigree Shropshire sheep – and we are looking at whether they will graze the grass kindlier than some of the other sheep around the planted trees. We are trialling them against other breeds i.e. Wiltshires, Dartmoors, and have some crossbreeds too. This is very much a trial site and was partly motivated by the desire to leave some of the land to a community-led agricultural scheme, and the Woodland Trust and myself were looking at creating a model we could roll out to other farmers who wanted to create an opportunity to use the space above and below ground to create more sustainability.
System layout & crop species
It is a 15-acre field with grass margins. The trees were laid out in a design to mimic a natural woodland. The trees produce edible products – apples, pears, cherries, damsons, plums, apricots, quince, lime, elder, whitebeam, mulberry, sea buckthorn, gooseberries, raspberries, blackcurrants, wild service tree, Japanese silverberry, rowan, dog rose, sea buckthorn, medlar, hawthorn and crab apple were all originally planted. The nut trees include sweet chestnut, walnut, hazel and almond. Everything will produce a crop as well as bringing benefits to the soil and wildlife. Where possible we have used native and heritage trees, this has involved learning from local experts and practices that have been passed down from previous generations. The Woodland Trust have provided advice on species, the scheme design, and have subsidised the trees.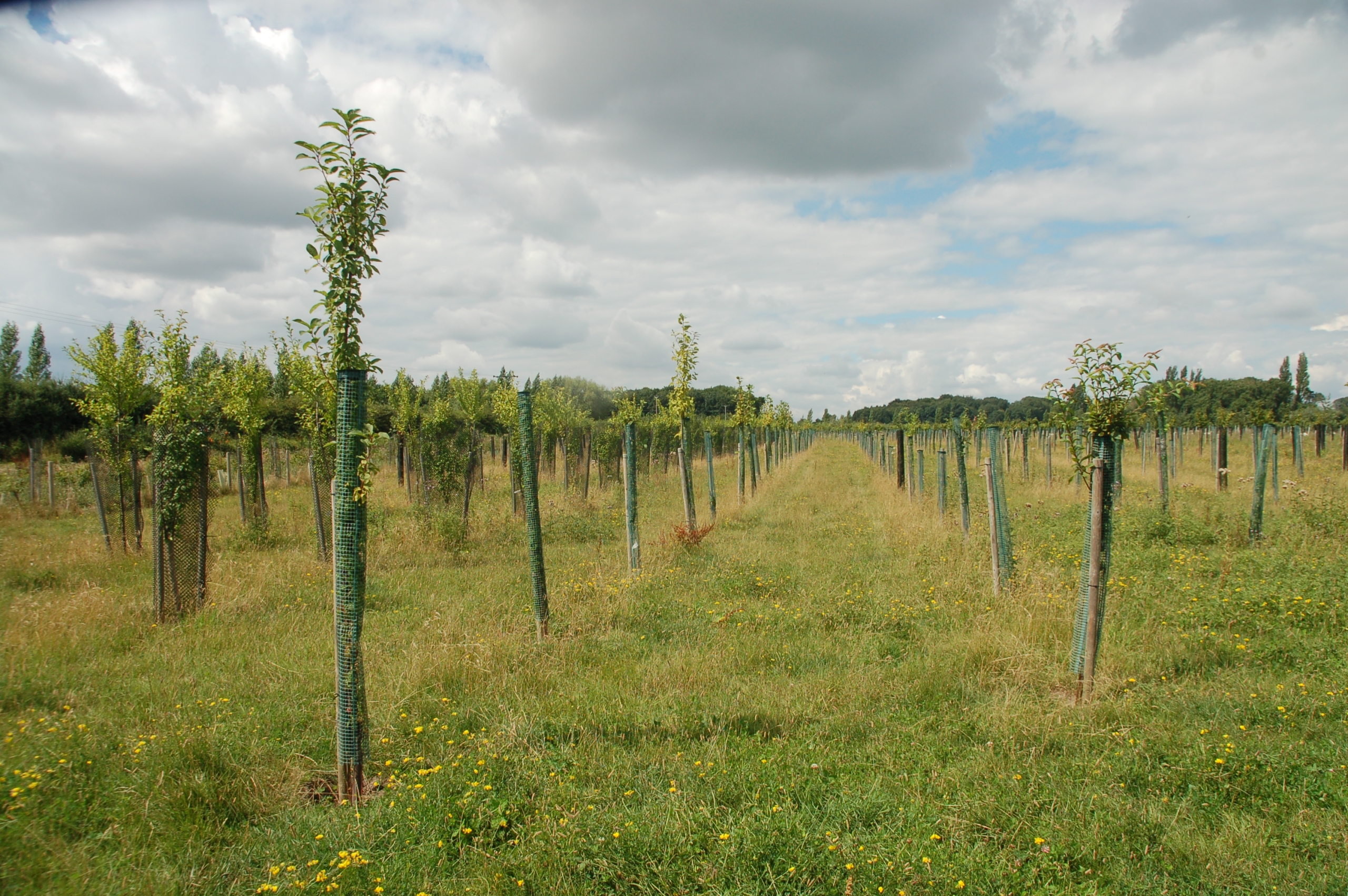 Management
We are a very collaborative team, constantly developing and refining our approaches. Due to the complexities in these system we find flexibility and adaptability the best approach.
Challenges
We have had some very testing times – the biggest task has been keeping the trees alive and keeping the sheep alive at the same time! Guards have been a huge problem – tubex ones didn't allow the trees to breathe – the open ones weren't tall enough. We have lost 40% of everything from apples, pears, damsons, and apricots to sweet chestnuts, because of the severity of the weather. We had two months of flooding followed by the driest summer ever, then had issues with the sheep grazing – so we decided to keep them out for a year and top the grass instead. But because we topped it and allowed the grass to grow up, the voles moved in – heaven! 70% of the area of apple trees was eaten. The Woodland Trust are keen to continue to see the project through, and have thankfully agreed to fund replacement trees, with the right tree in the right place being a clear objective.
Monitoring & long-term plans
The team have been monitoring every tree… and deliberating whether it's best to go back to the same trees we started with, or what will give us that profitability that allows us to do everything? We're looking at apple and nut varieties. We won't go for the sweet chestnuts again – we have lost lots of them, they can be quite hard to keep and the site just wasn't suitable for them. The apples are starting to produce now – years 5 and 6 are when they will be really productive. We're thinking we're going to have to zone it – it is a very complex design – instead of all the apple trees being in one zone, then all the sea buckthorn being in another etc. they were scattered all over the place so it makes even the process of harvesting very complex. Each tree species has different maintenance and protection requirements. Even different varieties have been found to vary hugely – some have thrived, some have died.
Our long-term plan is to be able to harvest for the next 20 years – the community will help run it. We hope to be able to produce woodland lamb we can sell locally. We are monitoring liveweight gains, which trees have been damaged, which are surviving etc. If we can get animals grazing successfully it will give us two bits of an income cherry – edible fruit and lamb produced in sustainable way.
Overall benefits
We believe trees offer a great financial, economic and social return for years to come.
We want to be a hub for the community allowing everyone to have experiences of farming life and nature, the agroforestry is a key part of this.
The integration of trees on the farm is allowing us to use conservation to develop nature based solutions to climate change.
The agroforestry contributes to us growing nourishing and delicious food to sell locally, using practices that are kind to the environment.
Main drivers / Motivations
Through my association with Nuffield and Stephen Briggs, I got to know the Woodland Trust and have been trying to farm with trees for over 10 years. I'm very honoured and thankful to be an ambassador to the Woodland Trust – we have advice and research being carried out, we're making money, we're farming with trees…
One of my main aims is to look at mitigating and counteracting the impacts of climate change on the farm. Our weather patterns are changing – with an increased severity of patterns. Another main aim is to reduce our use of insecticide through the use of trees (hence monitoring insect life is crucial). By planting trees and increasing the biodiversity we hope to use less insecticide on our main commercial crops.
Looking forward
We would like to see agroforestry continue to be an integral part of the farm's DNA. We are now in the final stages of another silvoarable project where we are creating a working wood (a short rotation coppice) of hazel and willow on another 15-acre field, with the aim of becoming more self-sufficient, providing 'biomass' for our biomass energy system and natural resources for craft sessions and hedge laying. We plan to put about 2,000 metres of hedging in by the end of 2022. In 10 years we should have self-sufficient support for binding etc. We have been planting in January in 10m strips – which should give protection for wheat going into the field. We are aiming at 4 rows of productive trees then 1 row of protecting trees and are balancing have sufficient space for turning circle of tractors and ensuring we have the right number of rows.
Our experience of agroforestry has raised the question of what role can agroforestry systems play in a wider landscape nature recovery programme? i.e. can they become the wildlife corridors of tomorrow? Other farmers should be particularly encouraged by the potential of agroforestry to enhance natural capital and the benefits from enterprise stacking whilst improving biodiversity.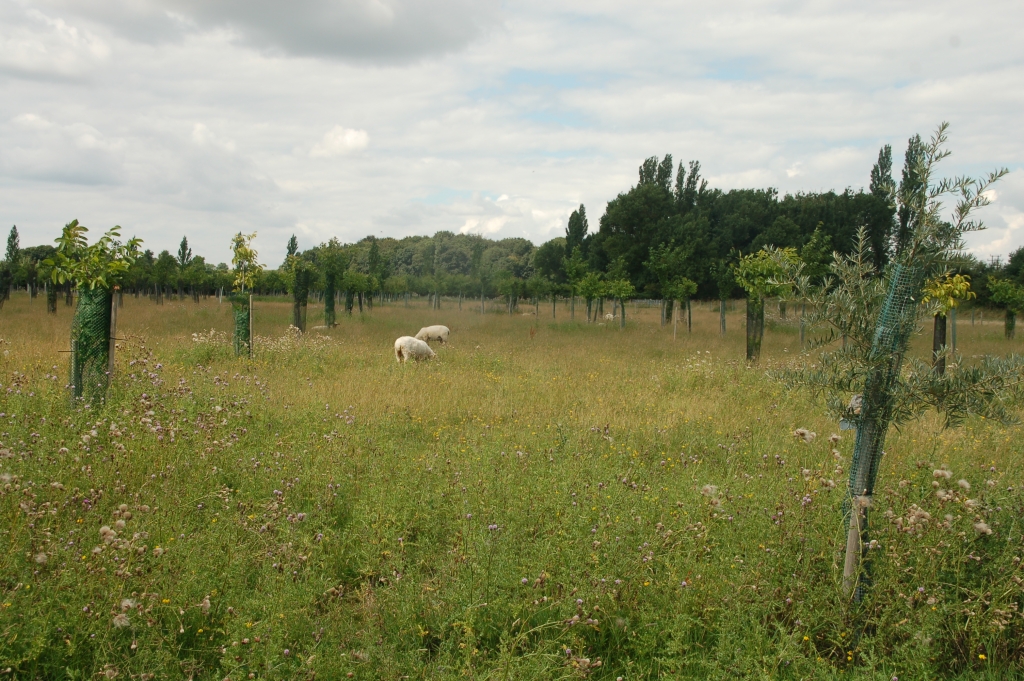 Farmer tips
Keep it simple, start small and build year on year (a phased approach means you can learn lessons along the way). This includes the variety of trees, guarding practices, size of area and guidance provided to volunteers.
Have a target market in mind and clearly define how it fits into the overall farm and conservation plan.
Sheep will always get to young trees.
Young trees are prone to wind and will need re-staking.
Maintenance is a time-consuming process.
This profile was created on by Janie Caldbeck on behalf of the Woodland Trust
With very many thanks to David Rose and James Thompson
Header image courtesy of David Rose and FarmEco, images taken from above courtesy of Archie Ruggles-Brise, all other images taken by Janie Caldbeck (in August 2021)
Related articles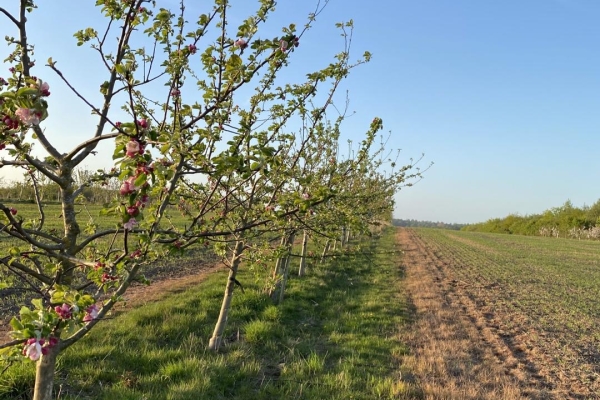 David Rose, farmer and co-founder of Home Farm Ecocentre in Nottinghamshire talks about his silvoarable agroforestry system and research being carried out in one of...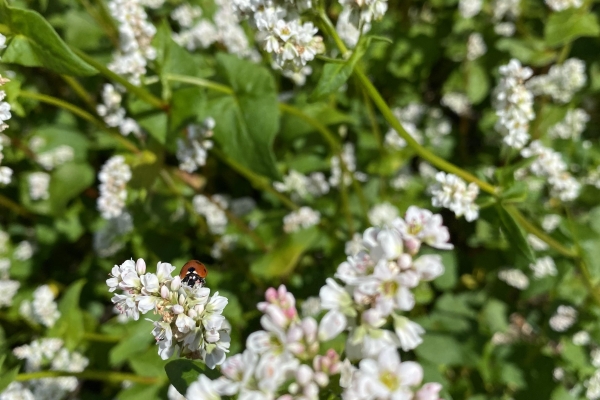 There is increasing recognition of the benefits of integrated agroecological farming systems but it can be hard to know where to start. In this podcast,...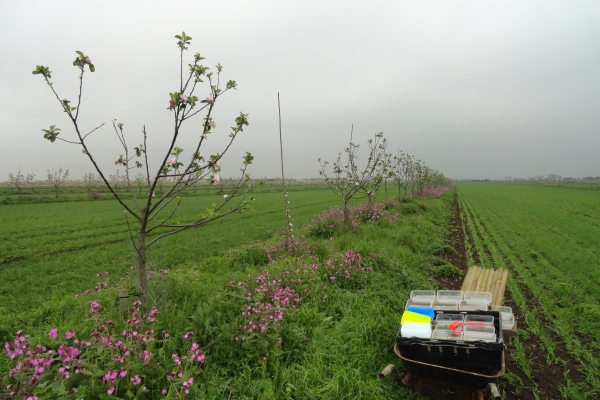 Design and manage agroforestry in arable systems so that the biodiversity benefits are maximised and problems are reduced.